Mint Infused Water Recipe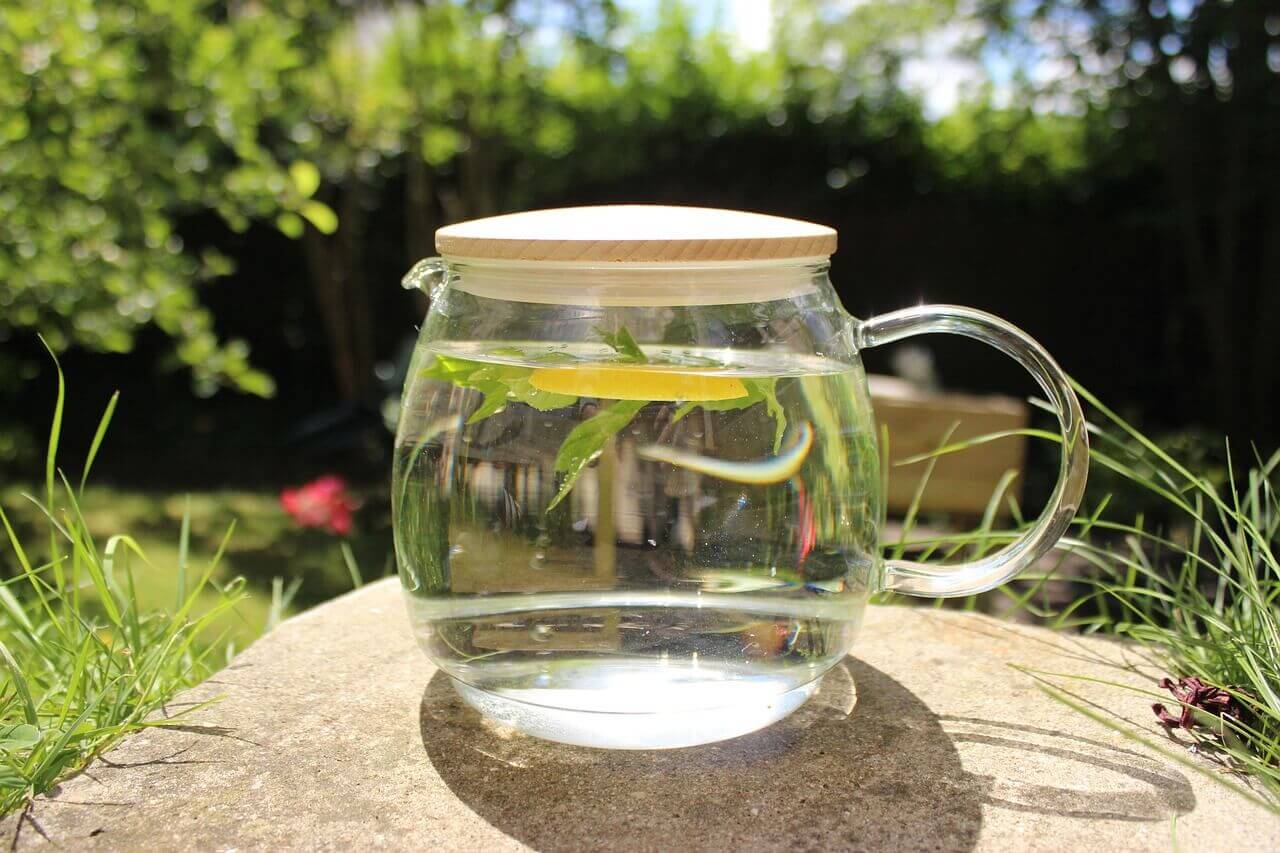 If you're searching for a nice refreshing drink for the summer, here's an easy mint water recipe!
This refreshing mint-flavored water revitalizes your senses and gives you several health benefits.
It's tasty, minty, fresh, healthy, and easy to make at home. You don't have to be an expert to make infused water either; all it takes is slicing up a few pieces of your favorite fruit and adding mint leaves.
Mix well, and you have an easy mint water recipe.
The drink is free of sugar, soda, or other harmful elements. So you get the benefits of regular water, fruits, herbs, veggies, and other ingredients.
What are Mint Leaves?
Mint leaves have been used for thousands of years to make food and cure physical ailments.
The herb is proven to help you in your weight loss journey, digestion, absorption of food, and also in improving kidney function.
Mint belongs to the Lamiaceae family. It resembles herb leaves like sage, thyme, rosemary, etc.
Although there are over 600 mint varieties, only two are used in the culinary industry, i.e., spearmint and peppermint.
Mint leaves have also been used to treat various health conditions like headaches, chest pain, and indigestion.
Click here to check out the nutrition facts of mint leaves.
Let's look at their benefits and our top mint water recipe to rejoice over the hot summer days.
Benefits of Drinking Mint-Infused Water
Mint water has many health benefits. It keeps the skin smooth, heals it, and may help prevent premature aging, reducing wrinkles and age spots.
Other than that, the drink does wonders for your digestive health. It prevents constipation, gives you much-needed electrolytes, and cleanses and detoxes the body.
It also gives plain water a nice, refreshing flavor, making it less boring.
You can get as creative as possible with this easy mint water recipe. You can use topical fruit, cucumbers, thyme, rosemary, or sparkling water; the combinations are endless!
Let's look at all the key health benefits of mint-infused water in detail here.
Alleviates Digestive Problems
Mint is a herbal medicine used to treat common stomach ailments like heartburn, bloating, stomachache, vomiting, and nausea. It is also a great alternative to regular water and helps you stay hydrated on hot days.
Relieves Stress
A few mint sprigs can also help regulate cortisol levels in the body, which helps relieve stress. This is why mint is often used as the main ingredient in balms and skullcaps.
The next time you feel stressed or anxious, inhale a few mint leaves. As per a study, inhaling peppermint oil can help boost memory, speed up cognitive processing, and make you more alert during the day.
Prevents Bacteria in the Mouth
Does your toothpaste taste minty? There's a reason why. Mint gives you a fresh and cool feeling in the mouth. It also prevents bacterial growth hence the decay of teeth and gums.
Moreover, as an add-on, you get a fresh, clean breath.
Drinking mint water may also help prevent the formation of plaque.
Reduces Arthritic and Asthmatic Pain
There's one compound the mint leaves have plenty of; it is the same compound found in lemon, rosemary, and other plants.
That's the rosmarinic acid. It is an antioxidant that helps alleviate pain and also reduces inflammation. So if you or any of your loved ones have arthritis or asthma, you'll find the drink extremely helpful in relieving pain and discomfort associated with both diseases.
Reduces Acne
Since menthol is antibacterial and anti-inflammatory, it may help exfoliate the skin. The essential oils in the leaves travel deep into the skin, removing dirt and bacteria from the pores and cleaning it.
That may help prevent acne breakouts, pimples, and zits.
Helps in Weight Loss
Although it's not a magic drink that can help you lose kilos of weight or melt away belly fat in days, mint water can work as a replacement for sugary drinks.
Since mint water is a low-calorie drink, it helps fill your stomach. So, when taken along with a healthy diet plan and regular exercise can help you lose weight.
Fresh Mint Water Recipe
The mint water recipe is one of the easiest infused drink recipes. All you need is a couple of minutes of prep time, and the rest is as below:
Mint-Infused Refreshing Drink
What You Need
¼ cup fresh mint leaves
Water
How to Make It
Steep the mint leaves.
Please place them in a cup of boiling water and let them seep for about 15 minutes.
Add two ice cubes to the hot water and let the temperature drop til it gets lukewarm.
Pour this water into a pitcher and add seven more glasses of cold water.
Stir it well and leave it in the fridge for about an hour.
Serve the refreshing mint water chilled.
Sparkling Mint Water
What You Need
A few sprigs of fresh mint leaves
Lemon juice
Sparkling water
Ice cubes
How to Make It
Wash the mint leaves and lemons.
Place lemon slices in a pitcher.
Add mint leaves and cold water.
Mix and keep the mint water in the refrigerator.
Add ice and use mint leaves for garnishing.
Here are some other mint water recipes you can try:
Cucumber lemon water
Fruit infused water
Lime water
Sparkling blood orange rosemary water
Lemon water
Mint citrus water
Why Drink Mint Water?
Do you know the feeling you get after a long run or hike? We immediately get thirsty, develop a dry throat, and crave water.
The same happens when our body doesn't get the required daily water intake. We get dehydrated, which can lead to many problems. For instance, we feel tired and sluggish, unfocused, and drained.
That's why we need to drink enough water every day. Mint water is only so much better than plain water. How you make mint water may contain lemon, mint, fruits, and other healthy organic ingredients that instantly revitalize the body and brain.
Frequently Asked Questions (FAQs)
here are some FAQs about mint-infused water.
How Long Does Mint Water Last?
Mint water can last up to one day in the fridge. The best time to consume the drink is an hour after preparation when it gets the most flavor.
But you may also prepare a large pitcher that'll last you through the day.
How Long Should I Keep Mint Leaves Immersed?
Keep the mint leaves in the infused drink for as long as they stay green. When they start looking soggy or spoilt, strain the water. Usually, they can last for two or three days.
What Other Fruits Can I Use in Mint Water?
You may use any fruit to add flavor to the infused drink. Just be wary of it getting soggy. The preferred fruits that go well with the drink are grapes, strawberries, lemon or lime, pineapple, orange, and melon.
Takeaway
This summer, give your body a rejuvenating boost and enjoy mint water with your loved ones. What's not to love about it anyway? It's easy to make (requires zero cook time), is extremely light on the pocket, and has dozens of health benefits.
So, what are you waiting for? Try this easy recipe today but ensure you take it in moderation all summer with fruits, veggies, and other healthy meals.
Rahul is a nutritionist and personal trainer with 3+ years of experience in the field of health coaching. He specializes in nutrition science, with a keen eye for how food choices, lifestyle habits, and physical activity impact our bodies.