Greens for Renewal: Green Juice Detox Recipe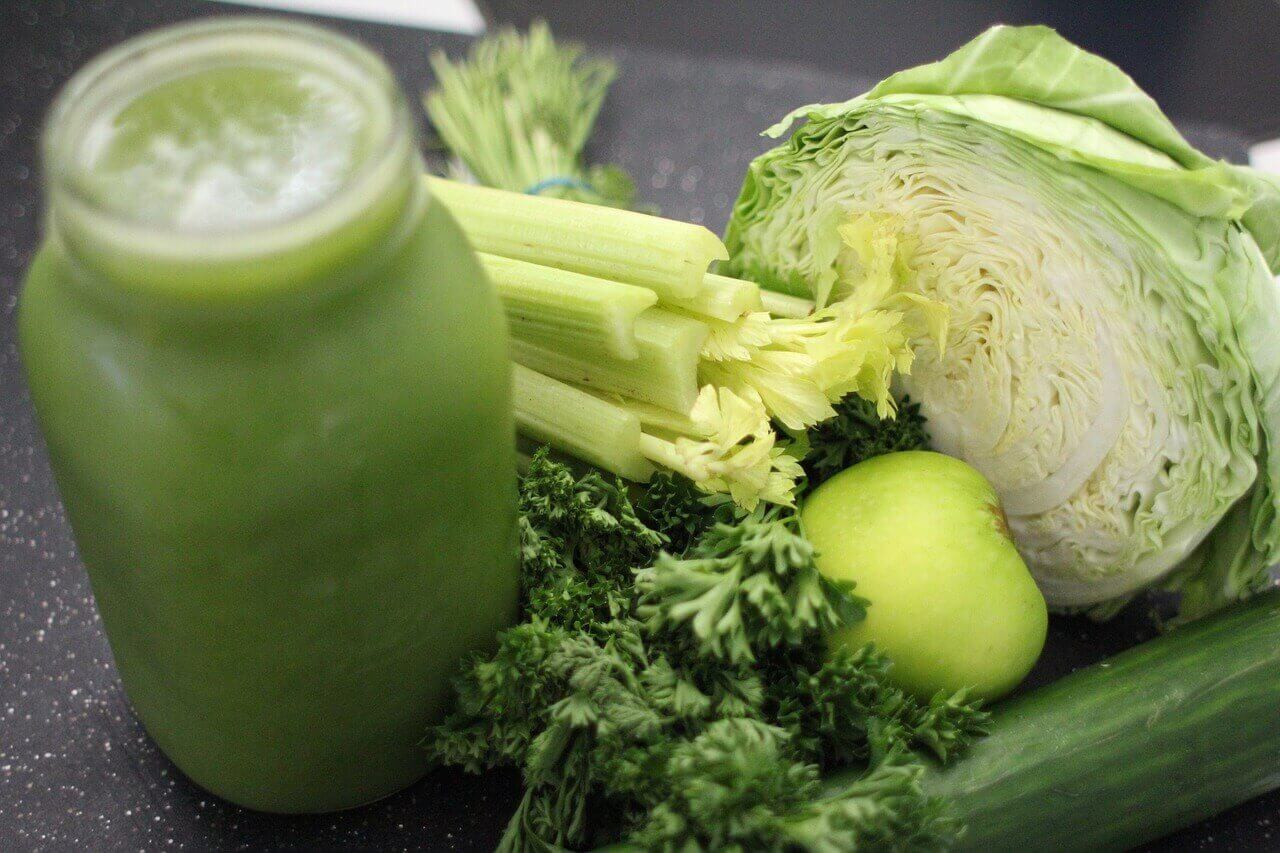 Detox juices are the quickest way to get all the vitamins, minerals, nutrients, and hydration into your body.
These are organic, gluten-free, vegan, and easy to make at home. Unlike other vegetable juices, the detox green juice tastes sweet and gives you a healthy lifestyle.
Although we won't recommend it as a complete meal replacement, you may take it with breakfast, lunch, or early morning on an empty stomach.
Green juice is full of nutritious calories and has several health benefits too. It keeps your blood sugar in check, maintains blood pressure, and builds a strong immune system.
Continue reading to discover the advantages, best green juice recipes, and proper timing for consuming the juice.
How Green Juice Helps the Body
Whenever we feel tired or sluggish, coffee or caffeinated tea is the go-to drink for most of us.
Green juice is an instantly revitalizing drink. It includes a variety of wholesome and healthy fruits and vegetables without any added artificial sweeteners.
Green detox juice gives you many more nutrients than fruits and vegetables alone.
It also works as a juice cleanse or detox drink that flushes out all the toxins and harmful elements from the body.
Many people feel the effects take place immediately, much like energy drinks. It's like an instant shot of vitamins, electrolytes, minerals, and all the beneficial compounds combined injected into the body.
How to Make Detox Green Juice
Before we get to the ingredients and how to make the drink, there are some preliminary steps to make the juice you shouldn't ignore.
Wash the Ingredients
To ensure you get a healthy dose of vitamins and minerals, thoroughly rinse all the fruits, vegetables, and fresh herbs with cold water.
Get Chopping!
Next, grab a knife and a cutting board. Peel, chop, and cut the vegetables and fruits as required. Even if you are making the detox juice in the food processor, roughly chop the ingredients so they can fit easily into the chute.
Then if you are using fruits like apples, it's best to deseed or remove the rigid middle portion at this stage.
Juicing
Blending or processing the drink will take about 3-5 minutes, depending on the green juice recipe and how you prefer the texture. Just chop the ingredients well so the chute remains unclogged.
Things You Need to Make the Detox Green Juices
Green detox juice is one of the most minimalistic drinks you can make at home. You'll even find most of the ingredients in your pantry or fridge.
Then all that you need is a juicer. You'll find varieties of juicers on the shelves today. There are different sizes, speeds, types of blades, etc.
However, if you're buying one, particularly for making green juice, it's best to go for a slow-press juicer.
Most other juicers will give you a smoothie instead of actual juice. So, a slow masticating juicer or cold press works best to evenly chop, press, and juice out the ingredients for your drink. The common types of juicers you'll find today are:
Juice Extractor
A simple way of making the juice is using a juicer extractor. This kind of juicer is vertical and has a slow-speed processor.
It separates the fiber and all the nutrients and squeezes the juice from the ingredients.
Blender
You may also use a blender instead to avoid investing in a juicer. The blender will mix all the ingredients but give you a denser output. The blade only chops up the elements since it doesn't squeeze the juice. So you may have to use a fine mesh strainer.
However, be careful; never use the blender at a high-speed setting to make the detox juice. Low-quality blenders may heat up, transferring the heat and destroying the nutrients inside the fruits and vegetables.
The Goodness of Green Drink
Kylie Jenner swears by the drink and cites her health and glowing skin owing to it. Let's take a look at her version of the green juice recipe.
1. Kylie Jenner's Easy Green Juice Recipe
What You Need
Half a cup of spinach
Six cucumbers (preferably frozen)
Six green apples
Half a cup of pineapple chunks (frozen)
Orange (fresh juice)
Pinch of pure collagen peptides
A few stalks of celery
Water
Ice cubes
A tablespoon of honey (optional)
What to Do
Rinse the raw vegetables well.
Chop them roughly
Put all the ingredients in the juicer and blend.
That's it! You may strain if you want, but it's not recommended as that will make the drink lose fiber and other essential compounds.
Note: You may use other vegetables too.
2. Healthy Green Juice Recipe: Natural Sweet Green Detox Juice
What You Need
2 cups spinach leaves
Half a cup of parsley with leaves and stems
One medium-sized green apple
One large cucumber
An inch of fresh ginger
One lemon (you may use lemon juice)
What to Do
Deseed the cucumber and remove the core from the apple.
Chop ginger, apple, and cucumber into small pieces that can quickly be processed.
Peel the lemon before you add it, cut off the slices, and remove all the seeds. Add half a lemon only in the processor first.
Process the drink, and once everything is smooth, pour it out.
Check the taste. If required, squeeze the remaining lemon into the juice.
Enjoy a cool refreshing glass of wine he green juice with all the health benefits.
Pro Tip:
Don't let the drink sit for too long; it is best consumed fresh. So prepare it when you intend to drink it, and drink the juice fast!
Health Benefits
Green juice detox has high vitamin content, fiber, and calcium levels. So yes, it makes sense behind the claim that detox vegetable juice can make your skin glow.
It also improves hair and skin health and boosts the immune system. Thereby it reduces the risks of infection, inflammation, and other diseases.
Moreover, if you look at the ingredients, they are all organic produce. They have all the fiber you need to maintain your gut health. This is particularly important if you have issues with bloating, gas, and indigestion.
Let's go ingredient-wise to gauge the health benefits of drinking green juice regularly.
Green Apples
Apart from uplifting the flavor of the juice (and keeping uniformity with the color), apples are full of potassium and vitamins A and C.
They help reduce bad cholesterol, help digestion (due to high fiber content), and provide much-needed vitamin C.
Cucumber
Cucumber is composed of 95% water.
So apart from providing hydration, especially in hot summers, cucumbers also have high levels of vitamins A, B complex, C, and K.
It also has high levels of folic acid and silica. That leads to less inflammation, smoother skin, and promotes cardiac health.
Spinach
Spinach is one of the cheapest and most readily available ingredients in detox green juice.
It is very high in iron and includes a variety of vitamins and minerals.
Parsley
Parsley is the powerhouse ingredient in the juice. It is rich in many vitamins and has a healthy count of iron, potassium, magnesium, antioxidants, etc.
Just be careful; adding too much of it would make the flavor too strong. Just a few handfuls of twigs are enough to make a glass.
Lemon
You'll find lemon and lime part of the recipe in many hydrating health drinks.
They are high in potassium, vitamin C, and B6. Lemons help you lose weight and also add nutritional value to your juice.
Ginger
Ginger adds a pleasant, soothing taste to the juice. But it's also packed with nutrients and helps alleviate bloating and indigestion.
Moreover, it also has anti-inflammatory properties and keeps you safe from infections.
It's also beneficial if you suffer from early morning sickness and nausea.
Some of the other benefits of incorporating green juice into your life are:
The juice cleanses and detoxifies the body removing heavy metals and toxins.
The juice may help in your weight loss journey
It gives you an instantaneous boost of energy
It keeps your skin and hair younger-looking and smooth.
It gives you a healthier lifestyle.
Finally, it also keeps the digestive system healthy.
Other Variants
There's no hard and fast rule about which raw fruits or veggies you must use in the juice.
Some like to follow the 80-20 rule, i.e., incorporating 80% vegetables and 20% fruits. While others strictly adhere to the detox green juice recipe card.
But either way, you can use a variety of leafy greens, fruits, and veggies of your choice.
Some of the most widely used ingredients you'll find in detox green juice recipes are:
Cucumbers
Green apples
Spinach
Parsley
You may incorporate or swap a whole world of greens with these ingredients per your taste and preference. These include fresh, raw produce like:
Pears
Grapes
Kale
Chinese cabbage
Kiwi
Zucchini
Celery
Parsley
Mint leaves
Wheatgrass
Moringa
Spirulina
Chlorella
Carrots, too, if you may!
With these, you may make other energizing green juices or vegetable and fruit juices like
Lemon ginger beet juice
Banana smoothie
Blueberry smoothie
Strawberry and banana smoothie
Easy green smoothies
Carrot and orange juice, etc.
Frequently Asked Questions
Here are some FAQs to address your concerns regarding detox green juices.
How Do I Make the Best Green Juice?
Honestly, there's no best way to make green juice. It all depends on your taste and preference.
Plus, since there's no written manual about the dos and don'ts, you can always experiment using different fruits or vegetables.
You can make it more personalized and per your taste by adding more fruits and veggies you like and keeping fewer quantities of those which you don't.
To uplift the taste, you may also add honey (for natural sweetness), maple syrup, coconut water, and grapes.
How Much Juice Should I Drink in a Day?
The preferred amount is about a cup or 200 ml daily, ideally taken with a meal and not as a supplement. But it can vary per person and their requirements. It is recommended, though, that if you have any kidney issues or other concerns, you should best consult your health care professional.
What's the Best Time to Drink the Detox Juice?
You can drink the juice in the morning for a healthy and refreshing start to your day. Many believe taking it on an empty stomach for maximum benefits is best. You may also take it with your other healthy meals or whole foods, like at the time of breakfast, lunch, or dinner.
Can I Drink the Juice Every Day?
Yes! The juice gives you a balanced diet and a healthy mix of nutrients. You may drink 1-2 glasses daily for your daily dose of vitamins, minerals, etc.
But always start with small amounts; once your body gets used to it, you can increase the intake.
Takeaway
An all-natural green detox juice that gives you a healthy combination of minerals, vitamins, and nutrients is one of the best things you can give to your body early in the morning.
The juice is all you need to tickle the taste buds. It's naturally sweet, healthy, and nutritious, packed with all the fresh fruits and veggies you need for the day.
So why wait? Grab a handful of these healthy and nutritious vegetables and fruits, and get a juice cleanse today!
Rahul is a nutritionist and personal trainer with 3+ years of experience in the field of health coaching. He specializes in nutrition science, with a keen eye for how food choices, lifestyle habits, and physical activity impact our bodies.