5 Day Fat Burning Detox Water Challenge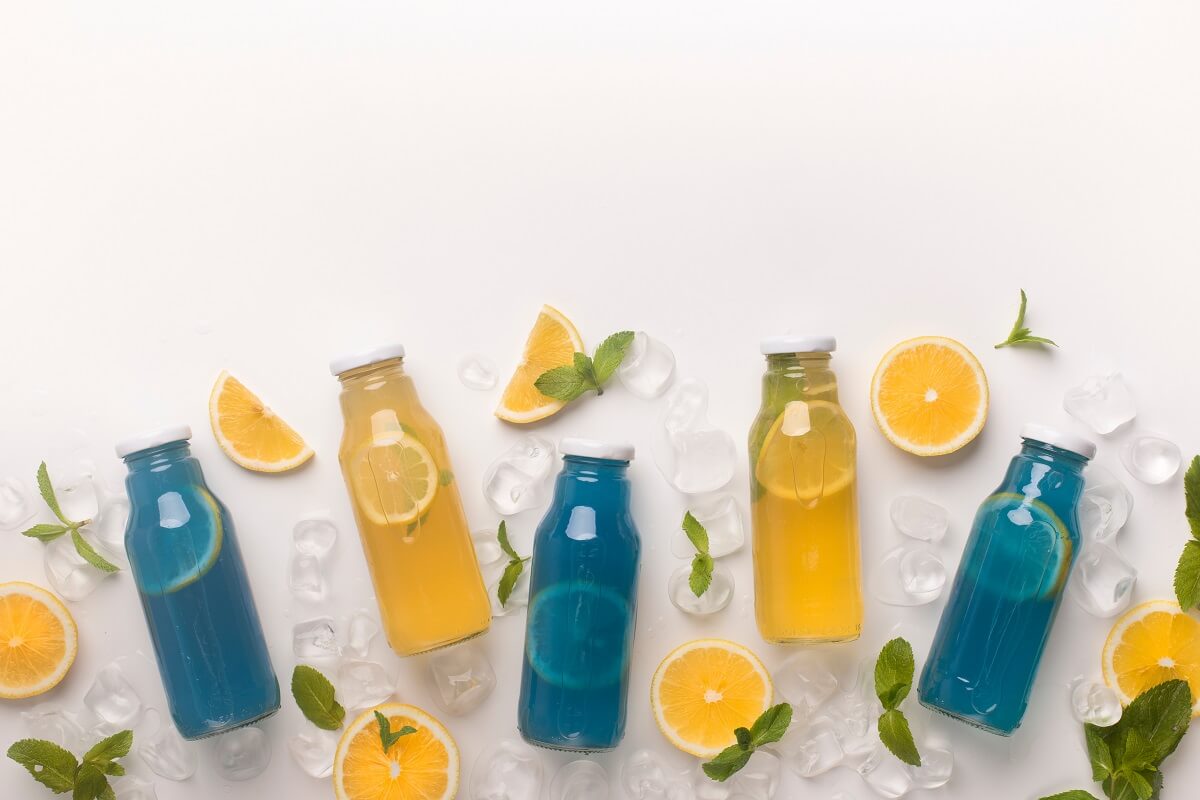 Are you looking to jumpstart detox drinks on your weight-loss journey? Or have you noticed a great idea for fat-burning while browsing social media? If so, this is probably a sign for you to start the famous 5-day fat-burning detox water challenge!
This challenge is simple but effective. You only need to drink detox water every day for 5 days. Detox water is infused with fruit and vegetables, making it a powerful tool for weight loss and detoxification.
The benefits of detox water are numerous. Not only does it help to flush toxins from your body, but it is also rich in nutrients that help to boost your metabolism and burn fat. And best of all, it's delicious and refreshing! To participate in the 5-day fat-burning detox challenge, follow the simple steps below in this article.
The 5-Day Detox Water Challenge
Ready to jumpstart your weight loss journey? Then let's dive into the 5-day detox challenge!
This challenge involves adding detox water to your breakfast, lunch, and dinner routine. By drinking detox water, you'll flush out all the toxins and lose weight.
If you're ready to try it, follow and save the instructions below.
How to Complete the 5-day Detox Challenge
The 5-day detox challenge is a great way to kickstart the new year. It's also an opportunity to get back in shape, lose weight and start a new you. But with so many days of the year already gone, you may feel a little overwhelmed about completing this challenge. Here are some tips for getting started:
Find the Right Detox Water Recipes
The first step in completing the detox drink challenge is to find the right detox water recipes. The best way to do this is by asking other people who have also been through the challenge. You can also ask experts on social media and online forums.
After that, find out what kinds of drinks are compatible and work together and what ingredients you need to make them. This will make it easier for you to start your detox journey.
You can use these recipes in your daily life too. They will help you get into drinking water throughout the day and keep you hydrated for longer.
The best thing about these recipes is that they're all low in sodium, which makes them perfect for people who have high blood pressure or other medical conditions that require them to decrease their salt intake.
Assemble your supplies
Prepare a workspace that is conducive to completing the detox challenge. For example, if you're going to be working out, try to pick an area in your home that is both comfortable and conducive to working out. If you're going to be eating healthier, then create an area where you can easily prepare healthy meals or snacks that will help boost the effectiveness of your detox program.
Set up a series of reminders or alarms that will nudge you when it's time for the next phase of your detox challenge. For example, if you want to eat healthy foods during your program, set up a reminder on your phone or computer so that when it rings, it will remind you that it's time for lunch!
Set a firm start date
Set a start date. Pick a day and time that works for you, but make sure it's in the middle of the week. You'll feel better if you can make a plan and stick with it.
Decide on how long you want to detox: the five days are just a suggestion. If your goal is to drink water instead of alcohol, go for it — even if you don't feel like it at first!
Measure your progress
You will have a good idea of how much weight you've lost after each day of the challenge, but it's important to keep track of your weight and the amount of water you drink. If you are losing more than two pounds per day, increase your water intake by one glass per day. If you are losing less than one pound per day, reduce your intake by one glass per day.
Measure your waist circumference at the belly button. Do this at the beginning of the detox challenge and again toward the end of the program to see if your waist size has decreased over time. Measure your body mass index (BMI) using a BMI calculator such as the one from the National Heart Lung and Blood Institute's website. This will help you see whether or not you're meeting the recommendations for a healthy weight based on your height and age.
Get support
The most important thing about the detox is that it's not a one-person journey. If you're going to make it through, you need friends, family, and coworkers on board with you. The more people who can help motivate and support you, the better!
The 5-day detox challenge involves taking the time to look deep inside and figure out what you want. It's about facing yourself, your fears, and your mistakes. It's about learning to love yourself again.
It's also about getting support to complete this challenge successfully. If you're struggling with anxiety or depression, it might be important for you to get help from a mental health professional during or after the detox challenge.
If you're unsure where to start, consider joining a community of people going through the same thing as you – whether they're friends or family members. You might find that these people have similar experiences that will help guide you through the process.
Keep going
At some point, you'll feel pretty lousy, but don't let that stop you from trying again tomorrow. It may feel like a huge accomplishment at first, but once it's over, there will be much more work left to do! Don't give up — keep working hard toward your goals!
Tips for Success
Here are a few tips to help you succeed with the detox challenge:
Drink plenty of water
Water is one of the best ways to clean out your body. It helps you stay hydrated, and it also helps flush out toxins. If you're drinking enough water, you'll feel full and satisfied while eating healthy foods. This will give you a boost of energy and help with weight loss.
Eat healthy foods
If you have been following a strict diet plan all year long, then it's important that you continue this after completing the detox challenge so that you can maintain your fat-burning and weight-losss goals even after the program is over. For example, if you have been eating low-fat foods all year long then switch back to eating healthy fats such as olive oil or avocado during the 5-day detox period because these fats are good for your heart health.
Exercise regularly
You'll need to stay fit to lose weight and keep it off—this is a physical exercise plan with daily workouts that will help you achieve your goals. It's easy to get distracted during the day, so keeping track of your exercise is a way of staying on track. You can visit reliable sites to review videos and learn how to discover the right workout plans. Working out is important to lose weight fast and to burn fat.
Get enough sleep
Sleep is a great way to detox and get rid of toxins that are stored in your system. You also get more energy while sleeping and it helps with weight loss by increasing your metabolism. It is very difficult to expect to lose weight from a program where sleep is not a priority.
Stay positive and motivated
Staying motivated is the key to success, especially when trying something new or uncomfortable. When you feel discouraged, take a break from what you're doing and try again later. Try different things until you find something that works for you. If you have trouble getting motivated, talk with someone else who has been through this challenge so they can give advice on how to get started again.
5 Day Weight Loss Recipes
The five-day detox challenge is one of the most famous detox plans for a reason. It's simple: You eat a ton of vegetables, fruit, and healthy fats for five days straight, and then follow up with a three-day fruit juice fast to help get rid of toxins from your body.
Are you ready to start detoxing? For more options, try out one of the detox water recipes below:
1. Lemon Ginger Detox Cleanse Drink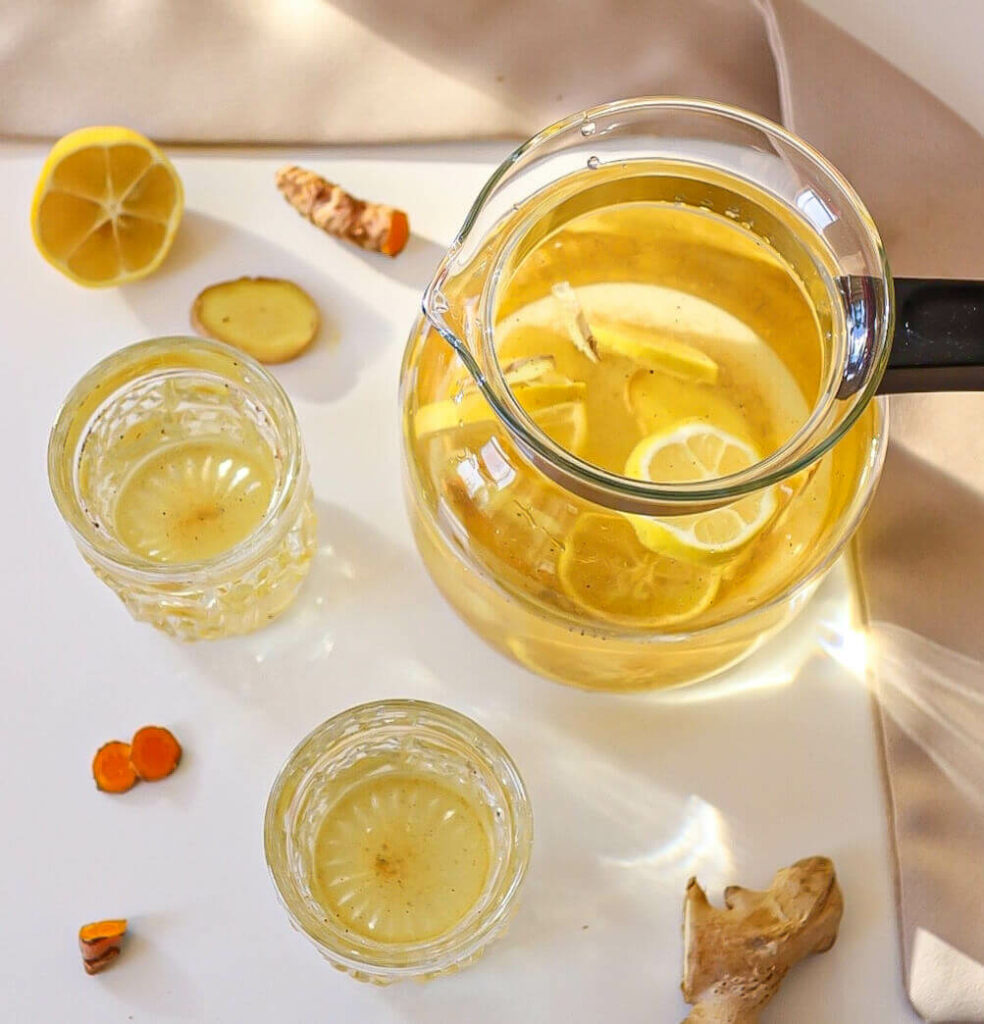 Ingredients:
2 cups water
1/2 lemon
1-inch fresh ginger
1/2 tsp ground turmeric
1 pinch of black pepper
Green tea leaves (optional)
Directions:
Boil the water (add the green tea if you like the flavor) and pour it into a heat-proof container.
Peel the ginger and slice thinly, and do the same with the lemon.
Add the lemon, ginger slices, turmeric, and black pepper to the boiling water, mix and turn off the heat.
Leave to infuse for 30 minutes and strain.
To serve, you can add lime juice if you like a more acidic flavor.
According to this meta-analysis of studies examining the effect of ginger on weight loss, individuals who consumed ginger lost more weight than individuals who did not. Ginger also improves HDL cholesterol levels and includes antioxidants for general physical health.
2. Chia & Grapefruit Detox Water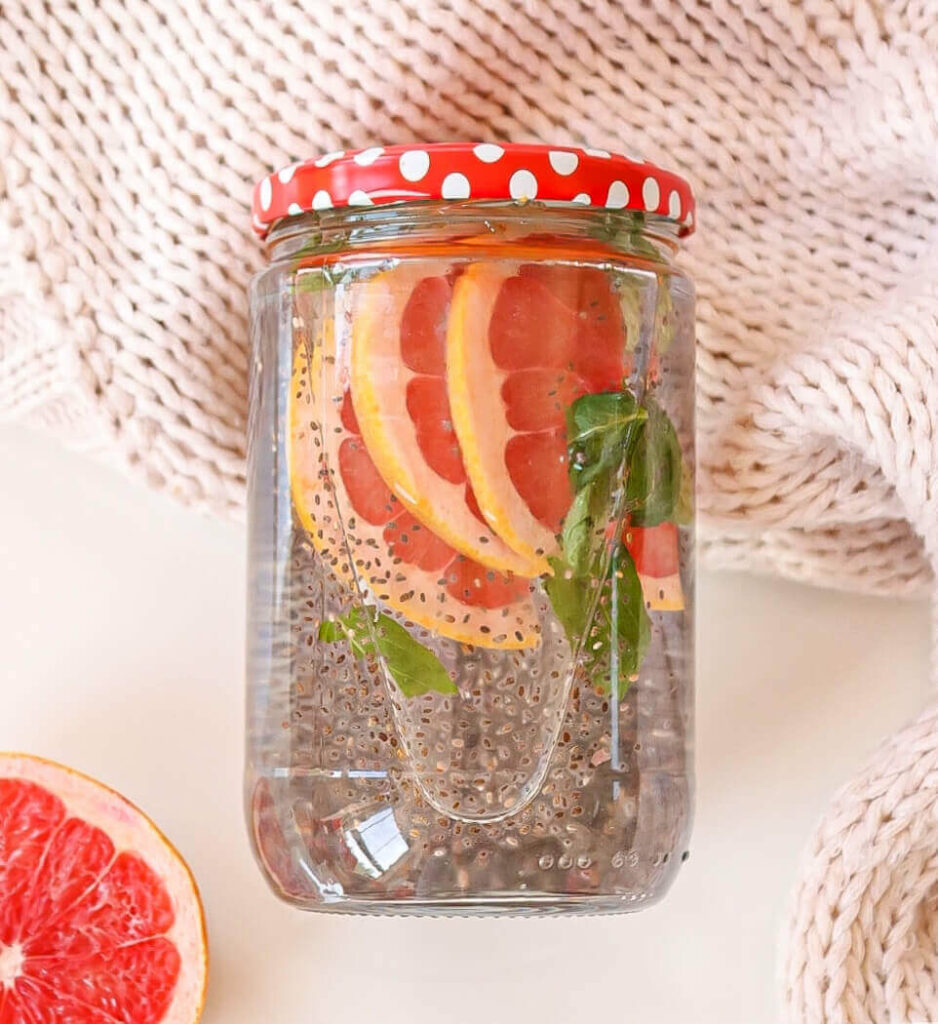 Ingredients:
1/2 tbsp chia seeds
1/3 grapefruit (sliced)
1 cup of water
Mint leaves
Directions:
Mix all ingredients in a jar.
Wait for at least two hours until the chia seeds swell, shaking from time to time.
To serve, you can add more mint, lime juice, pineapple, or berries to taste.
Chia seeds have a high concentration of Omega-3 fatty acids, which may help people maintain a healthy weight.
According to research conducted with 77 individuals with Type 2 diabetes, chia seeds reduced the incidence of Type 2 diabetes and diabetes-related diseases.
3. Green Cleansing Drink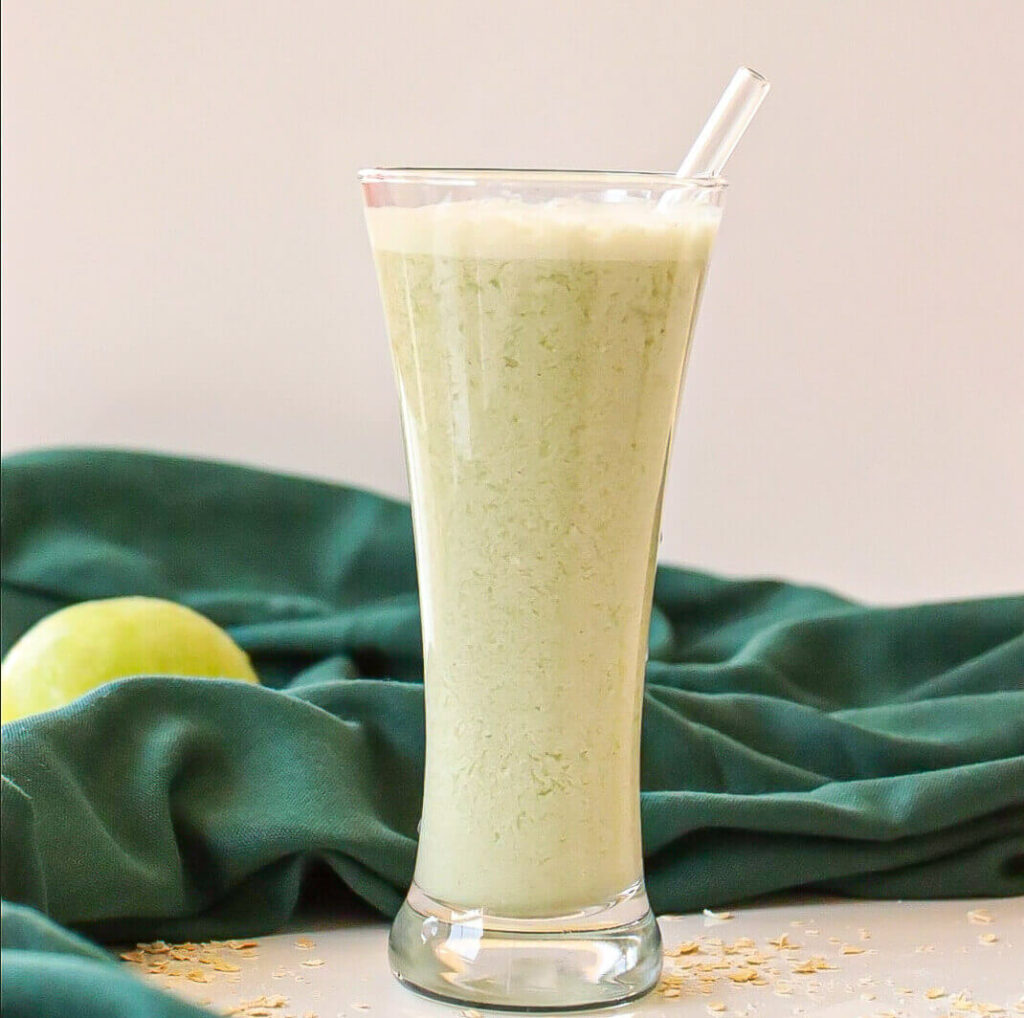 Ingredients:
¼ cup oats (uncooked)
¾ cup coconut milk (unsweetened) or water
1 cup baby spinach
¼ cup parsley
½ cup green apple (cored and chopped)
1 tsp lemon juice
1/2 cucumber
Mint leaves (optional)
Directions:
Place all the ingredients in a blender and mix until you get a smooth, homogenous mixture.
You can add more cucumber, mint, or other herbs to serve. If you like your drink sweeter, you can add a slice of pineapple.
According to research, the beta-glucan in oats may reduce fat tissue.
4. Cayenne Pepper Fat-Burning Drink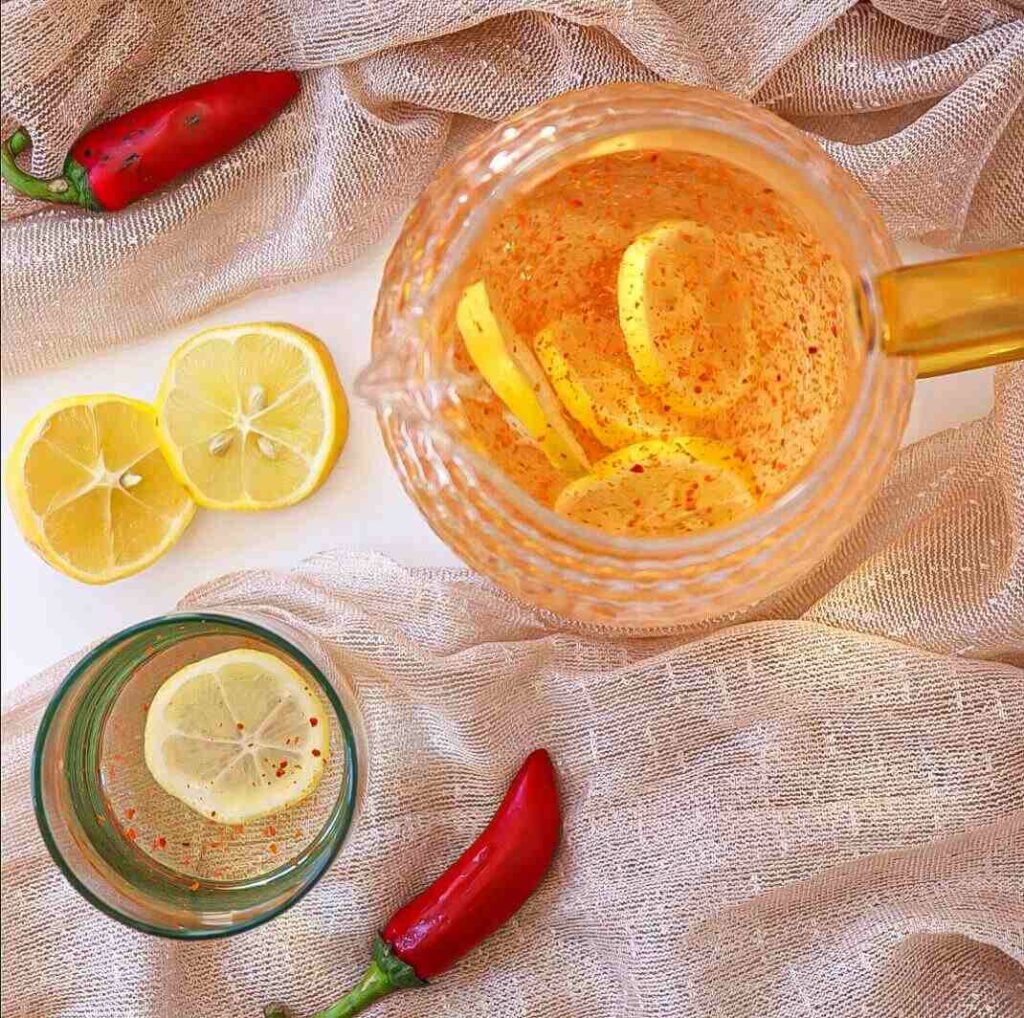 Ingredients:
1 tsp of cayenne pepper
1 lemon (juiced)
2 cups hot water
Directions:
Mix all the ingredients in a pitcher. You can increase or decrease the amount of water depending on how intense you like your detox water.
To serve you can add lime juice.
According to research, capsaicin, which is abundant in red hot pepper, increases fat-burning and energy expenditure as well as reducing hunger pangs.
5. Pumpkin & Apricot Detox Drink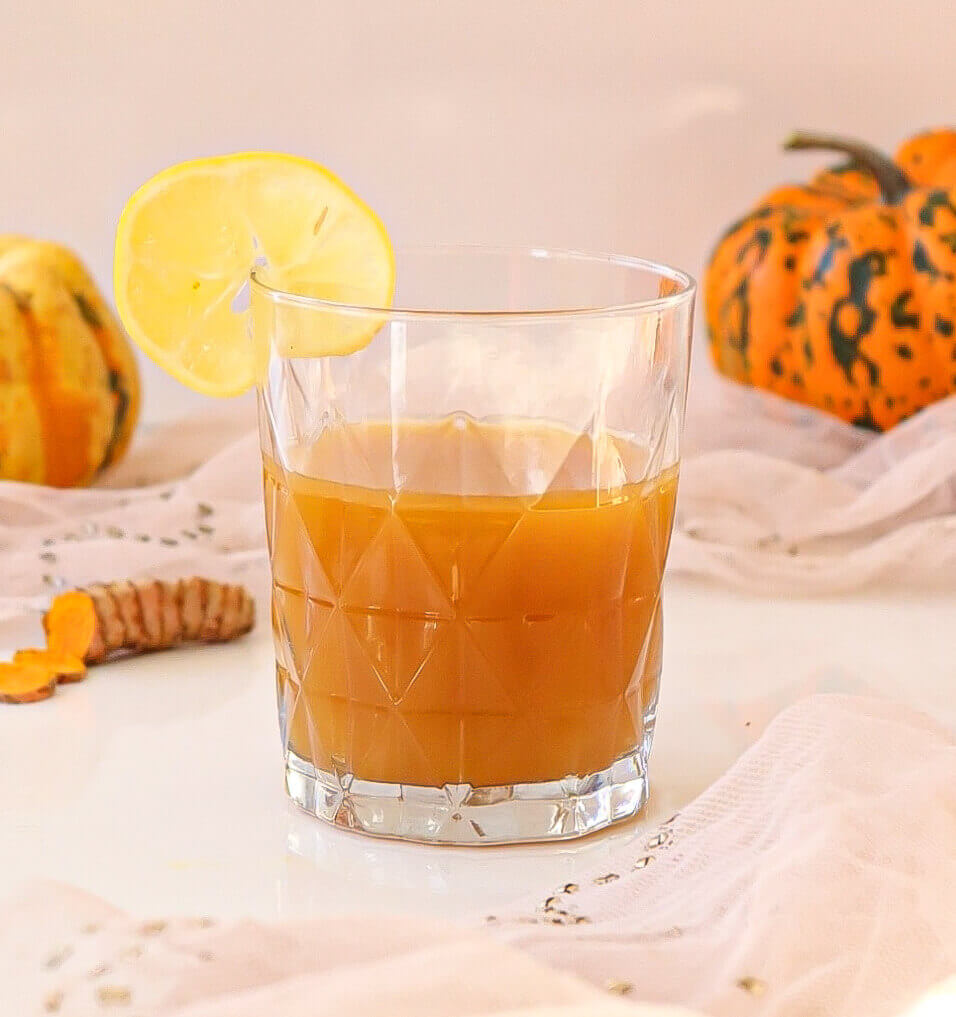 Ingredients:
1/4 medium pumpkin (remove seeds and slice)
1 lemon (peeled)
1-inch fresh ginger (peeled)
3 apricots (dry or fresh)
1-inch turmeric
1 tsp paprika powder
Directions:
Mix all the ingredients in a high-speed blender until homogeneous.
If possible, do not strain and try to consume with pulp.
Research has demonstrated that adding beta carotene (which is found in apricots and pumpkins) to your diet can help manage Type 2 diabetes by providing blood sugar regulation.
FAQs
Do I need to follow the detox water challenge for 5 days straight?
No, you can break up the detox challenge however you like. Just make sure you drink some detox water every day. Also, don't try to stretch this diet beyond five days.
What if I don't have a blender?
You can still participate in the detox water challenge. Just mix the ingredients and drink them straight from the glass.
What if I don't like any of these recipes?
Feel free to experiment with different ingredients and create your detox water recipes.
Conclusion
Are you up for the challenge? This 5-day detox water challenge is the perfect way to get started if you're looking to jumpstart your weight-loss journey. This challenge is a great way to help you lose weight and detox your body. It's simple, but it can make a big difference in your health and appearance.