Detox Cabbage Soup: A Nutrient-Packed Recipe for Cleansing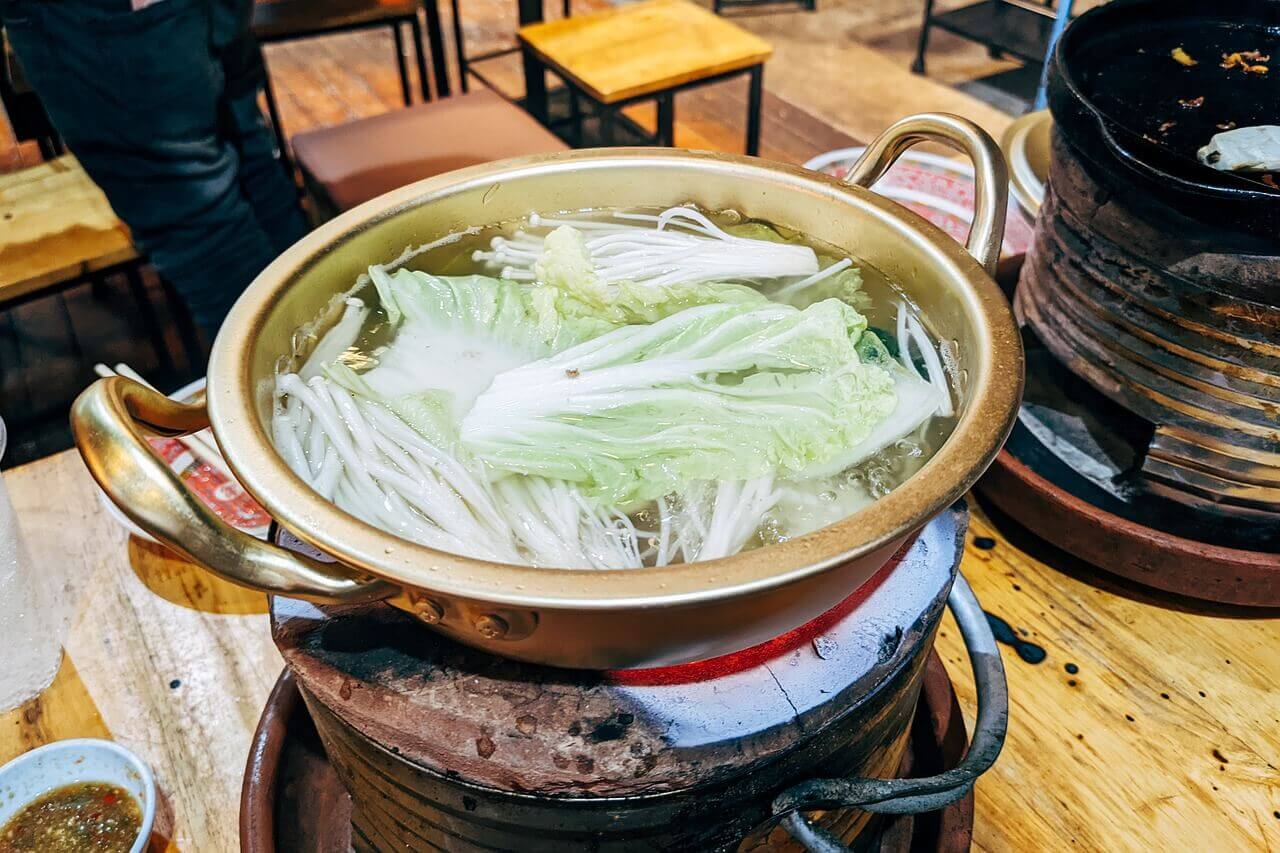 Not every weight loss journey has to be boring and monotonous!
When it comes to eating healthy and losing those extra pounds, there is no hard and fast rule as devouring stir fry veggies and steak daily. Of course, these meals are nutritious, but you may get fed up with them at some point.
That's when the low-calorie, high-fiber, and fulfilling detox cabbage soup comes to your rescue!
You may have already guessed it by the name; this soup is made of cabbage and many healthy veggies, such as tomatoes, onions, celery, and more. But what's interesting is that you can make this high-carb meal full of protein by cooking the ingredients in a beef or chicken broth. You can even add ground turkey, chicken, or beef pieces too!
The cabbage soup is ideal when you're feeling bloated and want to eat something energetic yet light. Another bonus point? Its preparation is super easy and affordable, so you can make as much as you want and store it for weeks.
For a delicious pairing, check out this wild rice soup recipe, which perfectly complements the heartiness of this cabbage soup.
The Easiest Detox Cabbage Soup Recipe (Veg Special)
You can prepare the cabbage detox soup in multiple ways. But for your ease, we have included two easy and authentic recipes in this post. The first one only consists of veggies with no hint of meat, which is ideal for vegetarians and vegans.
Key Ingredients
Here is the list of ingredients required for this classic detox cabbage soup recipe:
Cabbage
Cabbage is the main component of this weight loss meal, as it is low carb and delicious. Look for a large-sized cabbage without any bruises. You can opt for any colored cabbage — red, purple, or napa cabbage — whatever floats your boat.
Veggies of Your Choice
Cut your favorite veggies from the fridge into edible pieces if you want to add more healthy carbs to your soup. A sweet potato, carrot, celery, green beans, and bell peppers will complement the cabbage well.
Diced Tomatoes
While you can chop fresh tomatoes for a more flavorful taste, canned tomatoes also work fine. Just add pre-diced tomatoes from your nearest superstore to the soup for a sweet base.
Onion and Garlic
What's a soup without the aroma of onion and garlic? These ingredients add the right dimension and depth of flavor to this detox cabbage soup.
Broth
Broth makes your soup taste even more heavenly. Since it's a veg-special detox cabbage soup recipe, we recommend getting vegetable broth. However, you can go for their broth if you want a touch of chicken or beef. No judgments!
Lemon
Lastly, topping off the soup with a squeeze of lemon will seal all its flavor. The Vitamin C from the lemon also adds bonus points to the detoxifying properties of this soup.
Measurements
Here is how the measurements should be for three servings:
One roughly chopped, whole cabbage
Three chopped carrots
Three chopped celery stalks
One 14.5-ounce canned tomato (including the juice)
1 to 2 chopped onions (medium)
One minced garlic clove
3 cups vegetable broth (or reduced-sodium chicken broth)
One whole lemon juice
Two tablespoons fresh chopped parsley
Steps
Combine All the Veggies
First, take a large soup pot, instant pot, or a Dutch oven and assemble all the veggies (cabbage, tomatoes, garlic, onion, carrots, etc.) in its base. Leave the lemon juice and parsley for the end.
Add the Broth and Cook the Soup
Now, add the broth to the pot and lock its lid. If you're using an instant pot or a slow cooker, set a timer of 4 minutes at high pressure and allow the soup to cook. After that, let the pressure lower for 5 minutes and remove the remaining through quick release.
If you're cooking in a large stock pot, set the soup on medium heat for 15 to 20 minutes and let the veggies get tender.
Squeeze the Lemon
Remove the pot's lid and squeeze the lemon when the soup seems cooked. At this point, you can add salt and black pepper to adjust the taste.
Top It Off with Parsley
Finally, add some chopped parsley, cilantro, or dill on top, and your healthy cabbage soup is ready!
Important Notes About This Cabbage Detox Soup Recipe
If you want to make more than three servings, increase the quantities of the ingredients accordingly.
This detox soup remains delicious for up to 4 days in the fridge, but you can freeze it for two months. Just make sure it's in an airtight container.
You can make this soup even more filling by adding white beans or pasta to it. However, doing so will increase its calories, so keep that in mind. The original recipe has about 70 to 80 calories per serving.
The Sacred Heart Diet Cabbage Soup Recipe
The sacred heart diet was first used at Sacred Heart Memorial Hospital to help cardiac patients lose weight around the 1980s. It is a cabbage soup diet given to the patients for seven days to break through their weight loss plateau.
The sacred heart diet is a comprehensive plan that includes healthy foods, lots of soup, and about eight glasses of water daily. Here is what this healthy diet plan looks like:
Monday: Have lots of fruits, but no bananas
Tuesday: Eat a baked potato and non-starchy vegetables
Wednesday: Enjoy fruits and non-starchy veggies
Thursday: Have bananas and your favorite dairy products: milk and yogurt
Friday: Take 6-8 tomatoes and any protein of your choice: chicken, fish, or turkey
Saturday: Enjoy only protein and non-starchy vegetables
Sunday: Eat fruits, vegetables, and juices
Key Ingredients
The main ingredients of this cabbage soup remain the same as the first recipe but with a slight variation for non-veg people. Here is what you'll need to make this finger-licking soup:
Green Cabbage
This goes without saying — get a green cabbage without any bruises and cut it into fine slices.
Fresh Veggies
You can add any of your favorite vegetables to this soup. The best options are carrots, beans, diced sweet potatoes, green peppers, celery, green onions, cauliflower, mushrooms, butternut squash, kale, bell peppers, broccoli, brussels sprouts, peas, corn, and spinach.
Tomatoes
Tomatoes are the life of every soup, and the same goes for this detox cabbage soup. You can use fresh or canned diced tomatoes to add a citrusy touch.
Beef or Chicken Broth
If you love beef, we recommend Lipton soup, which has a delicious beefy onion flavor. Alternatively, you can also opt for the chicken broth. It will reduce the carb portion in your soup and increase its protein content.
Meat
Add diced or shredded chicken breast, turkey, or ground beef to your soup.
Seasonings
Add dried garlic, basil, and some delicious seasonings to make this cabbage soup a show-stopper. These could be curry powder, salt, red pepper flakes, cayenne, lemon pepper, or hot sauce. Just choose whatever you like; the soup will taste heavenly regardless.
Measurements
This is the measurement for three servings:
One whole, shredded cabbage
Three chopped green onions
One can of diced tomatoes
1.5 cans of water
One chopped green pepper
One whole bunch of celery
One packet of Lipton soup (or a similar quantity of chicken and beef broth)
Meat (to taste)
Dried garlic and basil (to taste)
Seasonings (to taste)
Steps
Gather the Equipment
The first step is finding a Dutch oven, slow cooker, crockpot, cutting board, and a sharp knife. After that, gather all the veggies and other ingredients.
Cut the Veggies
Now, slice the vegetables into small, bite-sized pieces. Then, add them to the cooking pot, tomatoes, and broth.
Assemble the Ingredients
Add the Lipton soup mix and dried basil and garlic to the soup. At this point, you can put in seasonings and other herbs to enhance the taste. Let the soup boil for 10 minutes.
Let the Soup Simmer and Serve it Hot.
After 10 minutes, lower the heat to let the soup simmer for about 30 to 60 minutes or until the vegetables seem tender. The slow cooker will take longer.
You can now add pre-cooked meat and adjust the seasonings. A dash of crushed red pepper flakes adds so much flavor, especially spicy ones. Finally, put the flame off because your soup is now ready!
Important Tips to Remember
You can also add chicken noodle Lipton soup instead of the beefy-onion one.
If you want to reduce the carb content, go for meat to make this soup filling and heavy.
Store the leftover cabbage soup in the fridge for up to 5 days in an airtight container. The freezing duration is around 2 to 3 months.
Why Is the Cabbage Soup Diet So Good?
The detox cabbage soup is highly nutritious and fulfilling. While relishing it may not drastically change your body weight, you will feel much lighter and more energetic each day. That's the most essential part of a weight loss journey.
Here are some reasons this soup makes a great addition to your meal plan:
It Is Super Healthy. Cabbage, tomatoes, and onions — all these ingredients make this detox soup a powerhouse of essential fibers, antioxidants, and micronutrients. If you live a busy lifestyle, this cabbage soup will fulfill a significant part of your daily nutrient requirements.
It Is Very Delicious. If you're a vegetarian, your mouth may be already watering imagining this cabbage soup. But since you can add beef broth or your favorite meat slices in this recipe, this soup is an equal treat for non-vegetarians too! Overall, this meal isn't only healthy but very, very delicious.
The Recipe Is Affordable. All the ingredients used in the detox cabbage soup are readily available in your home garden or nearest superstore. This makes the soup a budget-friendly weight-loss diet.
The Preparation Is Easy. Once you get all the veggies, you must slice them up and add them to a pot to simmer on low heat. Then, add a few spices or fresh herbs to add the right flavors, and your meal is ready! That's how easy cooking this weight-loss cabbage soup is.
It Ends the Monotonous Meal Routine. One of the many reasons people end their weight loss journeys is the monotonous routine. Nobody likes to eat the same thing all week around! The cabbage soup can be an excellent alternative as it is light, low-calorie, and yummy.
Conclusion
Whether you want to eat healthy or lose some extra pounds, the detox cabbage soup is an excellent option to achieve your goals and satisfy your taste buds at the same time.
If you're a vegetarian, you can opt for the no-meat option. But if you love your proteins, add any meat to your detox cabbage soup and fulfill your daily carb and protein needs with this low-calorie meal. Enjoy your weight loss journey!
Rahul is a nutritionist and personal trainer with 3+ years of experience in the field of health coaching. He specializes in nutrition science, with a keen eye for how food choices, lifestyle habits, and physical activity impact our bodies.