10-Day Cleanse Detox: Preparation & Diet Plan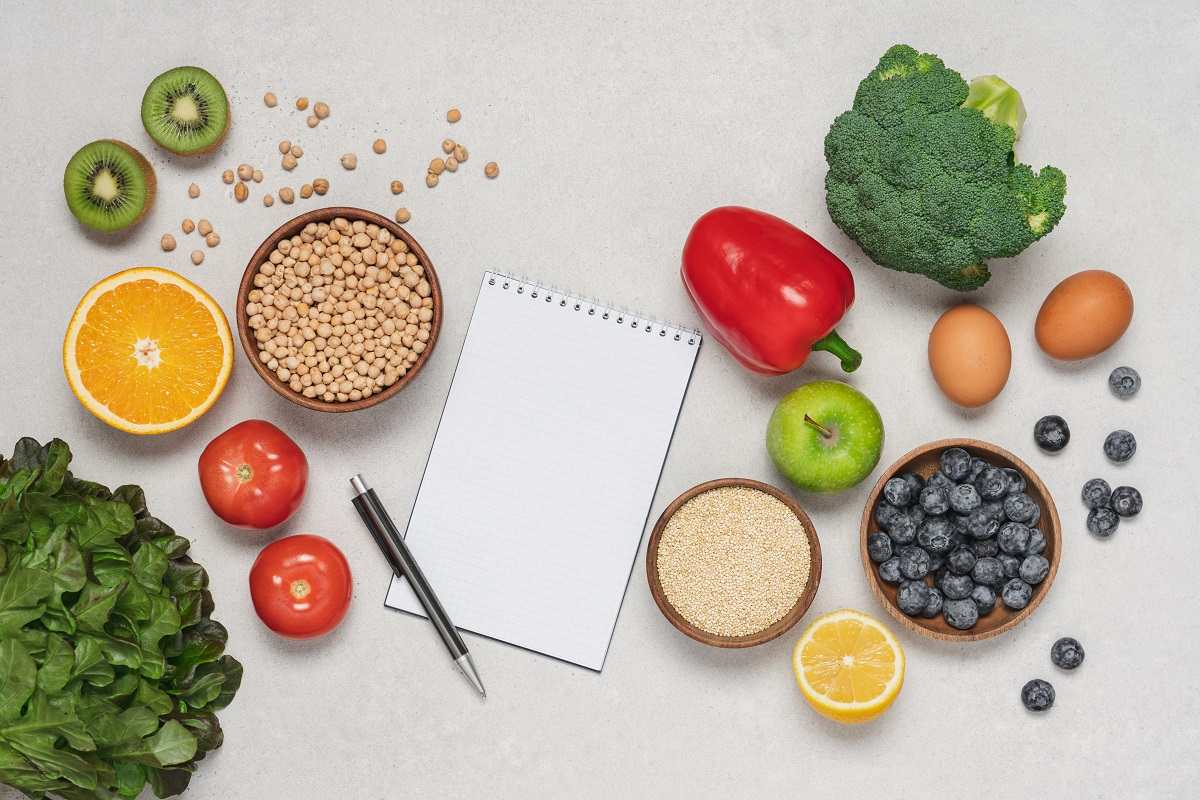 Are you ready to jumpstart your health and kick those extra pounds to the curb? A 10-day cleanse detox is the perfect way to refresh and rejuvenate your body. By incorporating healthy juices into your diet, you can benefit from essential vitamins and minerals that will energize and revitalize you.
Imagine sipping on a delicious and nutritious green juice one day and then indulging in a sweet, tangy orange juice the next. There are endless possibilities and benefits with a 10-day cleanse detox.
In this article, we'll cover everything you need about a 10-day cleanse detox, including delicious juices you can prepare at home.
How To Prepare For A 10-Day Detox Diet
A 10-day cleanse detox is a structured plan that allows you to make conscious choices about what you put into your body. It also allows you to experience the detox's transformative effects quickly.
Taking a green smoothie can give you an energy boost if you are working on losing weight and are low on energy.
Proper preparation is critical to completing the detox and reaping the benefits, especially if you are working towards losing weight.
However, it's important to note that every individual's needs and dietary restrictions may vary. For this reason, it's advisable to consult a healthcare professional for personalized advice.
With that said, here are some tips for preparing for a 10-day detox diet for healthy eating habits:
Clean out your pantry:
Remove any unhealthy or non-detox-friendly foods from your pantry, such as processed foods, and replace them with detox-friendly options. If you have a sweet tooth, you will want to avoid processed, sugary foods such as chocolates and cakes for a while.
Notable fruit vegetables you should consider for weight loss include collard greens, kale, broccoli, and beets. Sweet potatoes and lean beef are great alternatives to stock up too.
If you are doing vigorous exercises, including lean protein in your diet would be great. This will help you stay on track while cutting a few extra pounds. Drinking coffee and green tea will also come in handy during your weight loss journey.
Plan your meals and snacks:
Preparing in advance will make it easier to stick to the detox diet. Please list the foods you need and shop for them beforehand. Consider preparing some meals or snacks in advance to save time and make sticking to the detox plan easier.
Stock up on supplies:
Ensure you have all the necessary equipment, such as a juicer or blender, and any supplements required for a body cleanse. It would be best to get all the ingredients beforehand to avoid inconveniences.
Get mentally prepared:
Detoxing can be a challenging process, both physically and mentally. The mind is the strongest muscle. For the best results, you should adopt a strong and positive mindset before you start this 10-day journey. It may also be helpful to enlist the support of a friend or loved one to help you through the process.
Consult with a healthcare professional:
Consult with a healthcare professional before starting any new diet or exercise program is always a good idea. Remember, different individuals have different dietary needs and restrictions.
A healthcare professional can guide you on potential risks and help you determine if a detox diet is right for you. They may also be able to recommend specific detox methods or supplements to support your detox efforts.
10-Day Detox Diet
Here are healthy breakfast, lunch, dinner recipes, snack recipes, smoothies, and juices you can incorporate into your eating plan
Healthy Pesto & Chicken Salad for Dinner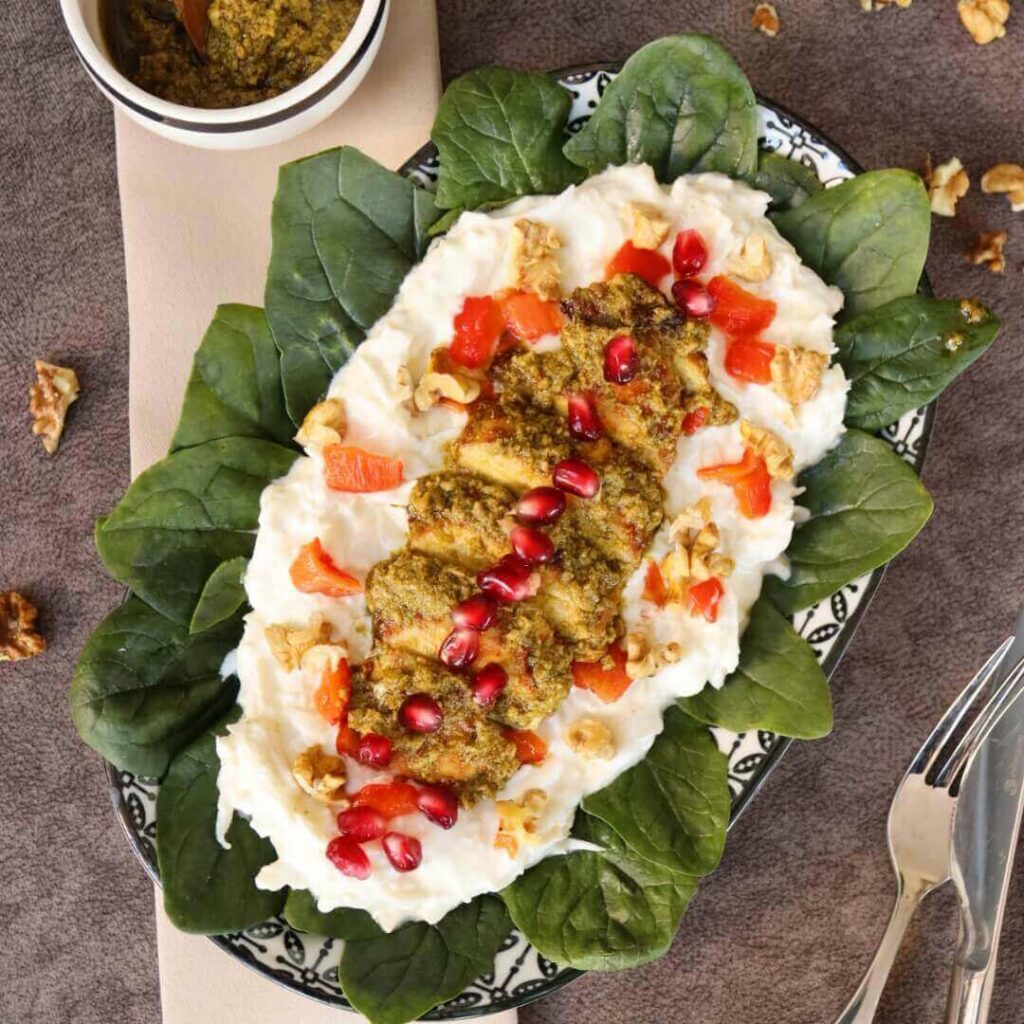 Ingredients:
1 1/4 cups spinach or romaine lettuce
1 stalk celery
3 tbsp yogurt
1/2 avocado
1/4 cups walnuts
1/2 tsp salt
1/3 red pepper (roasted)
For the pesto sauce:
2 cloves of garlic
3 tbsp extra virgin olive oil
1/4 cup parsley
1/8 cup dill
1 cup of bacilli
1/4 cup spinach
1/8 cup pine nuts
1 tbsp parmesan (grated)
For Chicken:
1 fillet of chicken breast
1 tbsp extra virgin olive oil
pesto sauce
1 tsp salt
1/4 tsp black pepper
For the Top:
1 tbsp pomegranate or berries
Pesto is a flavorful sauce made from fresh basil, pine nuts, garlic, and olive oil. It is often used as a topping for pasta or a spread for sandwiches, but it can also be used to add flavor to salads and other dishes. Adding pesto to a chicken salad can provide numerous benefits.
One of the main ingredients in pesto, basil, is a good source of antioxidants and helps reduce inflammation. It is also rich in vitamin K, which is important for bones. Pine nuts, another ingredient in pesto, are a good source of heart-healthy monounsaturated fats and contain a range of vitamins and minerals, including vitamin E and magnesium.
Incorporating chicken into your diet can also provide numerous benefits. Chicken is a good source of protein, essential for building and repairing tissues in the body. It is also a good source of vitamin B3, vital for converting food into energy and maintaining a healthy nervous system. Additionally, chicken is a good source of selenium, a mineral that plays a crucial role in the immune system.
Combining pesto and chicken in a salad can provide a delicious and nutritious meal. The combination of protein, healthy fats, vitamins, and minerals can help to support overall health and well-being.
Directions:
1. Grate the celery. Mash the avocado. Add the celery and avocado to the yogurt and mix.
2. Chop the roasted pepper. Chop the walnuts into small pieces. Add the peppers, walnuts, and salt to the yogurt. Mix well.
3. Wash the green leaves and place them on a serving plate; pour the celery with yogurt in the middle.
4. Clean all the ingredients for the pesto sauce and add them to the blender. Blend until you get a smooth consistency.
5. Slice the chicken breast, and cook in the pan for 10 minutes with olive oil. Then, add the pesto sauce, and cook for another 5 minutes. Turn off the stove, and add black pepper and salt.
6. Arrange chicken on top of celery salad.
7. Add pomegranate on top while serving.
Apple & Beet Quinoa Salad for Lunch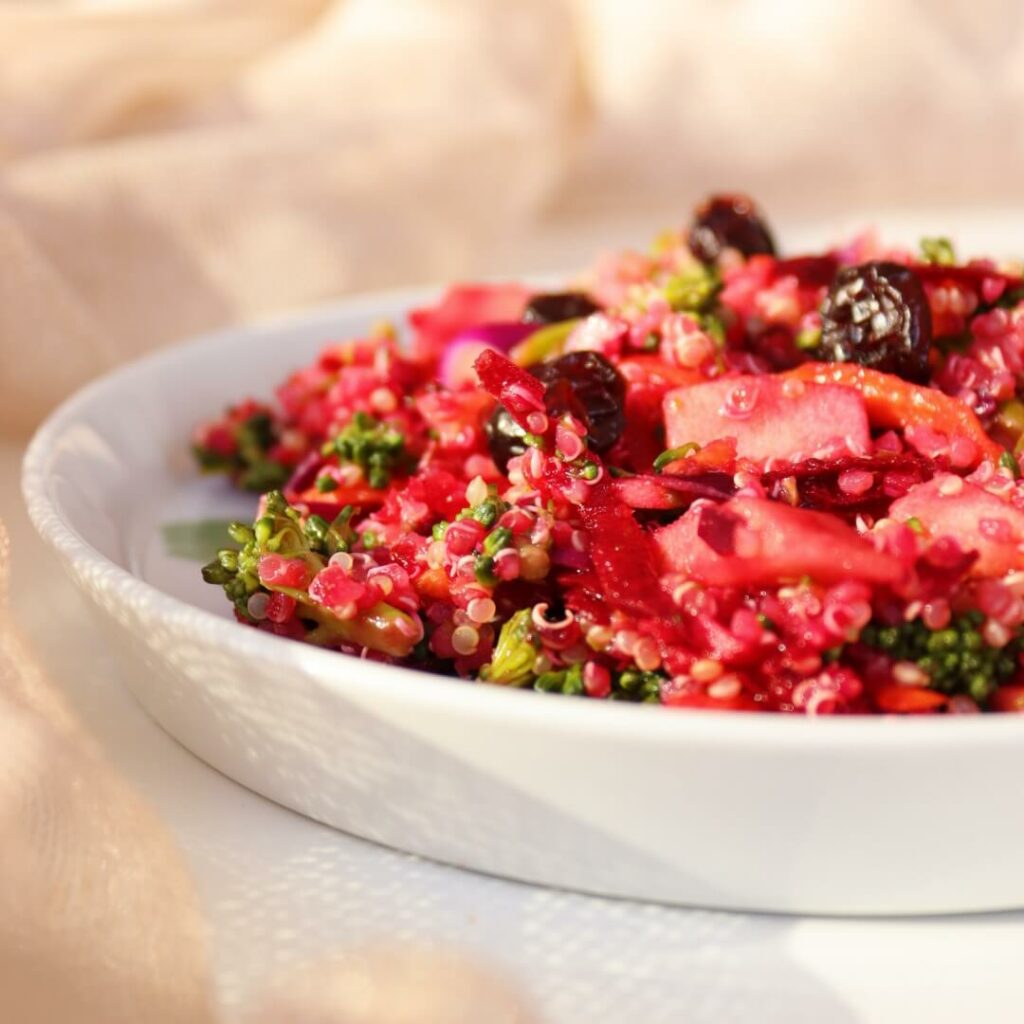 Ingredients:
2 tbsp Quinoa
¼ Apple
½ Beet
1/3 Carrot
¼ Kale Leaves
1 tbsp Cranberries (dried, unsweetened)
1 tbsp Orange Juice
1 tsp Apple Cider Vinegar
½ tsp Dijon Mustard
1 tsp coconut oil
Sea Salt
Directions:
1. Wash the apples and cut them into julienne shapes. Peel and grate the beetroot and carrots. Chop the kale leaves.
2. Prepare the quinoa according to the directions on the package. Once it has finished cooking, set it aside to cool.
3. Mix the cooled quinoa with the other ingredients in a large bowl and whisk until well combined.
4. You can add apple slices to it while serving.
Quinoa is a grain that is a good source of protein and fiber. It also possesses many essential vitamins and minerals, including iron and magnesium. Quinoa is also high in antioxidants and has anti-inflammatory properties.
Including quinoa in your diet can help to support cardiovascular health, improve digestion, and support muscle function.
Beets are a good source of antioxidants, particularly betalains, which have been shown to have anti-inflammatory effects and may help to reduce the risk of certain chronic diseases. They are also a good source of nitrates, which can help to lower blood pressure and improve athletic performance.
Apples are a good source of antioxidants and dietary fiber. They are also a good source of vitamin C, which is important for maintaining a healthy immune system and promoting collagen production. Apples are also a good source of boron, an important mineral for bones.
Eating apple and beet quinoa salad into your diet can provide a range of benefits, including supporting cardiovascular health, improving digestion, and supporting a healthy immune system. It is a delicious and nutritious way to incorporate a variety of healthy foods into your diet.
Green Cleansing Drink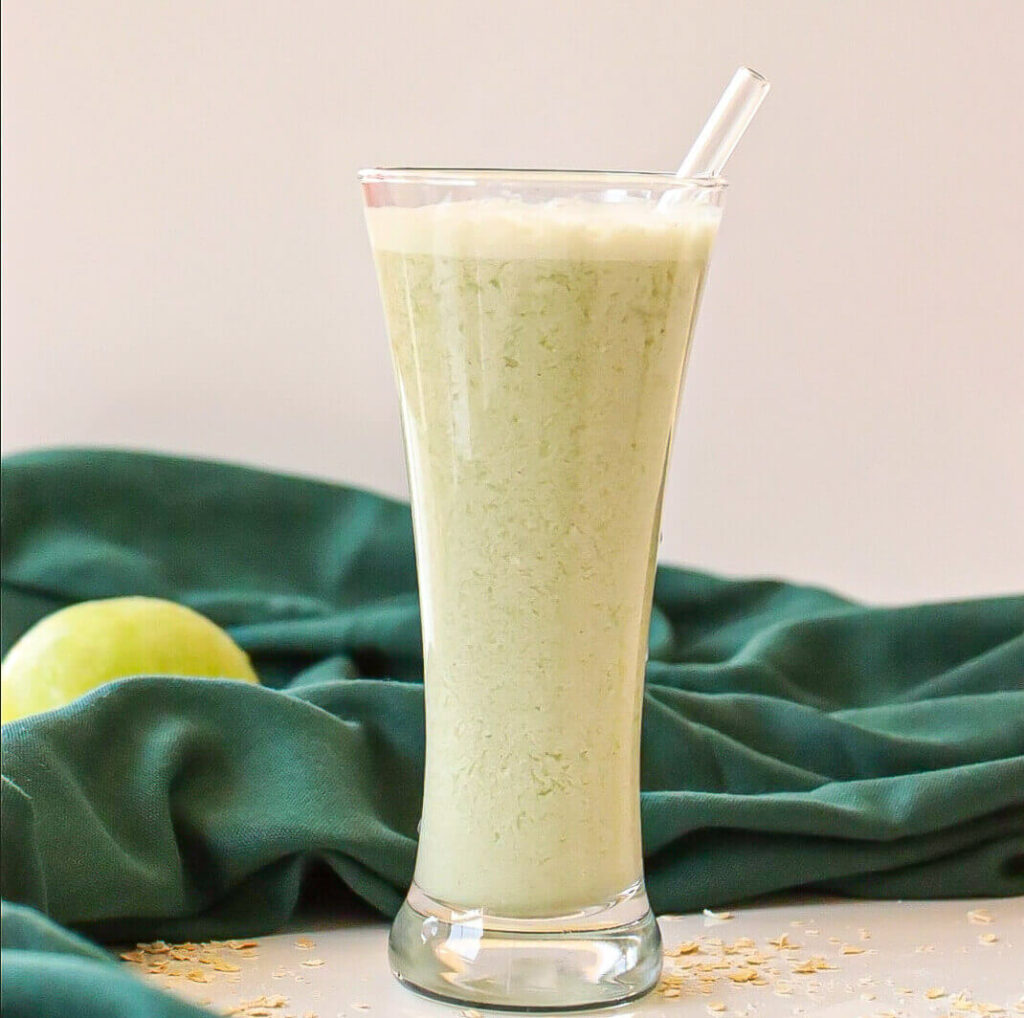 Ingredients:
1/2 cup rolled oats
1 cup unsweetened coconut milk or almond milk
1/2 cup baby spinach
1/2 green apple
1/4 cup parsley
1 tsp lemon juice
1 tsp peanut butter (optional)
Directions:
1. Wash and chop the apple.
2. Put all ingredients inside a blender and process until you have a smooth mixture.
Green smoothies can provide a range of benefits.
The oats in this drink are a good source of dietary fiber, which can help to support proper digestion and prevent constipation. They are also a good source of antioxidants and have been shown to have cholesterol-lowering effects.
Coconut milk and almond milk are plant-based alternatives to cow's milk that are rich in saturated fat and can be a good option for those who are lactose intolerant or following a vegan diet. They are a good source of essential fats, proteins, and micronutrients.
Do you want to supplement with more plant-based proteins and essential fats? Try adding 1 teaspoon of peanut butter.
Leafy green vegetables are a good source of vitamins and minerals, including vitamin K, vitamin A, and folate. It is also high in antioxidants and has anti-inflammatory properties.
Comprehensive 10-day Detox Diet Plan
Incorporate green smoothies into your diet:
Smoothies are packed with nutrients, antioxidants, and anti-inflammatory compounds that can reduce inflammation and promote overall health. They also help to curb cravings and aid in weight loss.
Reduce or eliminate saturated fat from your diet:
Reducing or eliminating saturated, unhealthy fat from your diet during the detox can help to promote required body fat and improve well-being. This can include cutting out processed foods, fried foods, and red meat.
Reduce sugar intake:
Reducing sugar intake is an important part of a 10-day detox. It can help to curb cravings for sweet foods and reduce overall calorie intake.
Drink more water:
Drinking purified water can help to flush out toxins, reduce cravings, and keep you feeling full.
Incorporate lean protein and vegetables:
Incorporating lean protein, such as lean beef, chicken, fish, or plant-based options like tofu, tempeh, and vegetables, into your eating behavior can provide your body with essential nutrients and help you maintain body weight.
Incorporate more whole foods:
Incorporating more whole foods, such as fruits, vegetables, whole grains, lean proteins, and essential fats, into your eating behavior can help to lose weight and improve your well-being.
Reduce caffeine:
If you're a coffee drinker, reducing caffeine during the 10-day detox can help to reduce inflammation and promote health. Also, most people limit alcohol and sugar.
Incorporate healthy fats:
Incorporating healthy fats, such as olive oil, avocado, and nuts, into your diet can provide your body with the necessary energy while helping you maintain healthy body weight.
Exercise regularly:
Incorporating regular exercise into your routine during a 10-day detox can help to boost metabolism, burn calories, and aid in weight loss.
References
Westen, Robin. Ten Days to Detox: How to Look and Feel a Decade Younger. iUniverse, 2000.
Bowden, Jonny, and Jeannette Bessinger. "Awesome arugula: this nutritional powerhouse makes the perfect pesto for sweet, late-summer veggies." Better Nutrition 73, no. 9 (2011): 62-63.
Ramaiyan, Breetha, Jasmeet Kour, Gulzar Ahmad Nayik, Naveen Anand, and Mohammed Shafiq Alam. "Spinach (Spinacia oleracea L.)." In Antioxidants in Vegetables and Nuts-Properties and Health Benefits, pp. 159-173. Springer, Singapore, 2020.