Sugar Detox: Diet, How to Do It & Withdrawal Symptoms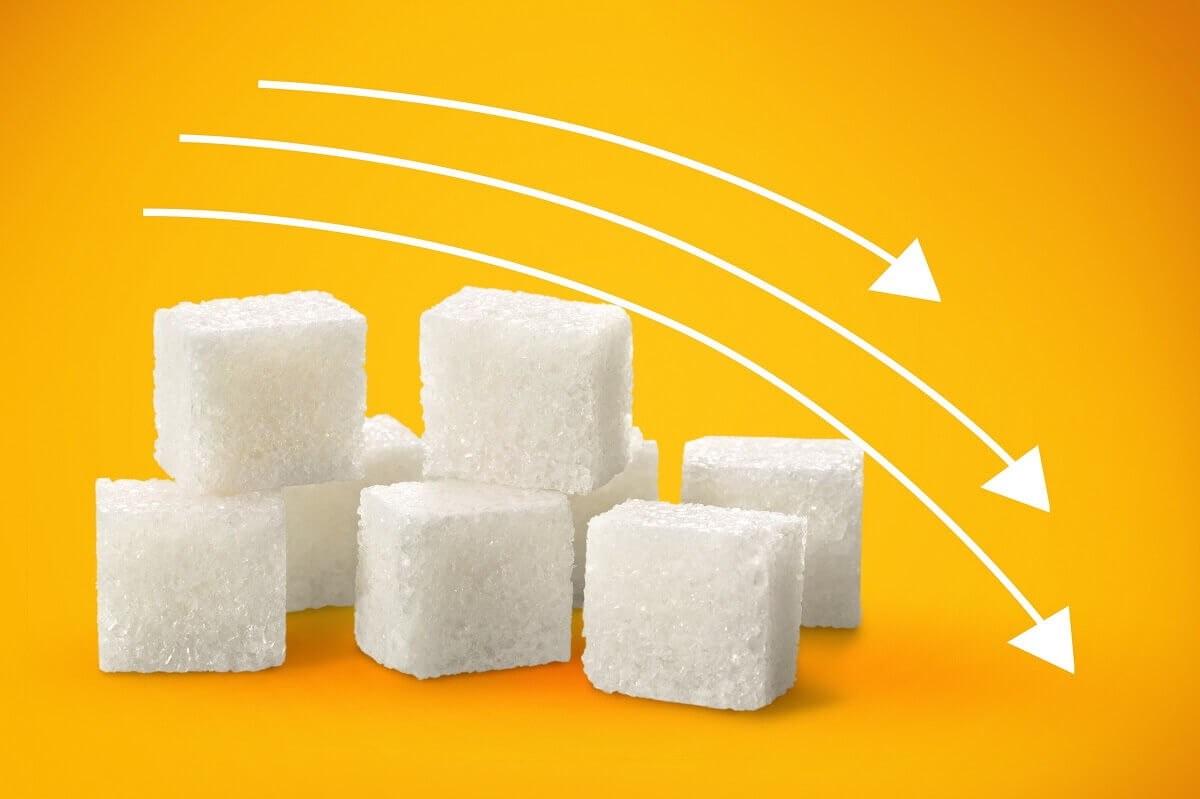 A sugar detox involves the total elimination of sugar from your diet. The goal of a sugar detox is to break the body's sugar cravings, which can have adverse effects on health, including weight gain, increased risk of type 2 diabetes, and tooth decay.
However, it might not be as simple as it sounds, especially if you're used to eating foods that contain processed sugar.
Fortunately, several ways to approach a sugar detox include gradually reducing sugar, replacing sugary foods with healthier natural sugars, incorporating healthier fats, and eliminating processed foods.
In this article, we'll look at some healthy yet tasteful options that you should consider substituting in your diet as part of your sugar detox.
Sugar Detox Diet Plan
Sugar-Free Apple Cinnamon Cake (4 servings)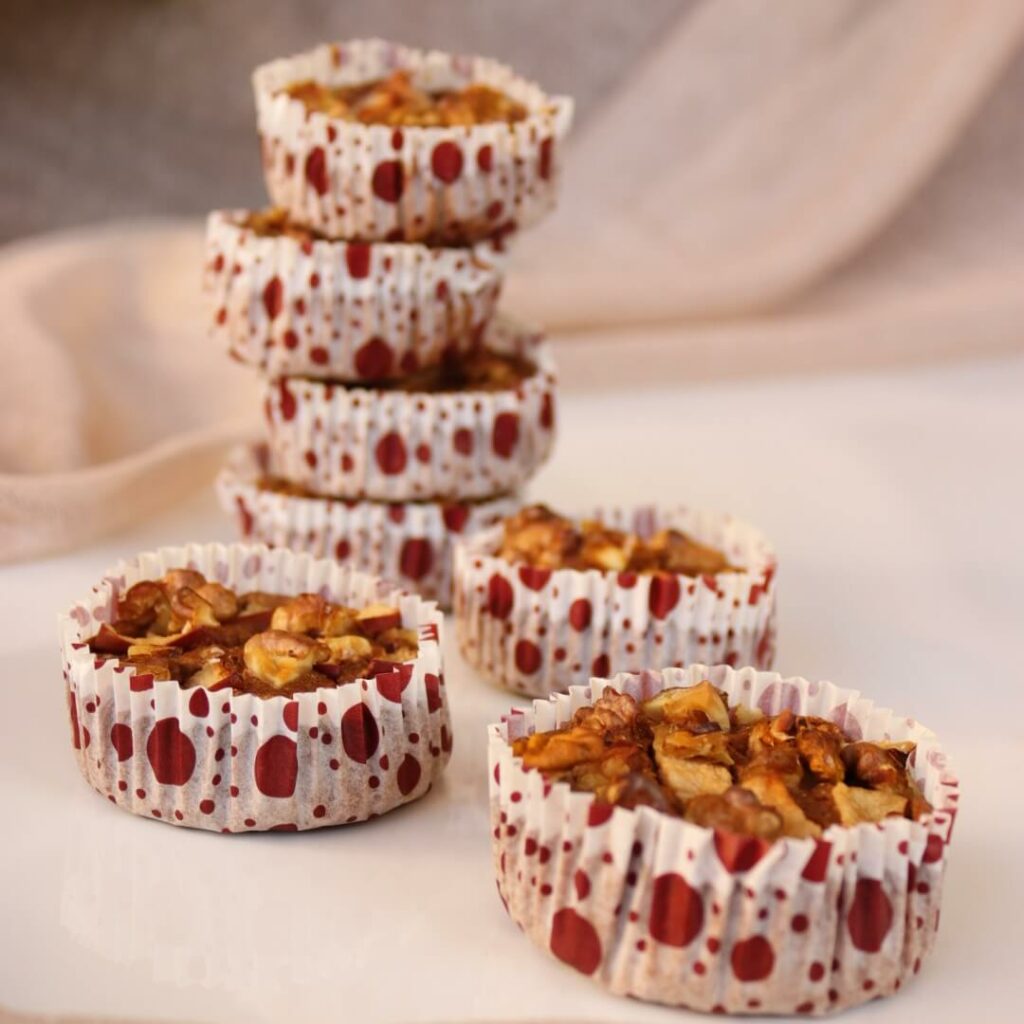 Ingredients:
2 eggs
2 apples, peeled and finely grated
1/4 cup milk
1/8 cup coconut oil
15 dates
1 tablespoon of cocoa
1 teaspoon cinnamon
3/4 cup oat flour
3/4 cup of buckwheat flour
½ cup finely ground hazelnuts
1/2 pack of baking powder
For the top:
Directions:
1. Soak the dates in boiling water for 5 minutes; remove the seeds and mash them after they soften.
2. Beat the eggs in a mixing bowl with a mixer for 2-3 minutes until the eggs become foamy.
3. Add milk, oil, date puree, and cinnamon and beat for another half minute. Add the apple zest and beat until combined.
4. Mix oat flour, buckwheat flour, cocoa, baking powder, and hazelnut in a separate bowl, add to the other mixture and mix.
5. Divide the dough into the muffin molds on which you put muffin paper. Do not fill too much so that they do not overflow while cooking.
6. Slice half an apple into small pieces, mix it with walnuts and cinnamon, and sprinkle it on the cakes.
7. Bake in a preheated oven at 170 degrees for 25 minutes. To see if it is cooked, insert a toothpick into the middle of the cake and remove it; if it comes out dry, it is done.
Breakfast: Healthy Deviled Eggs (2-4 servings)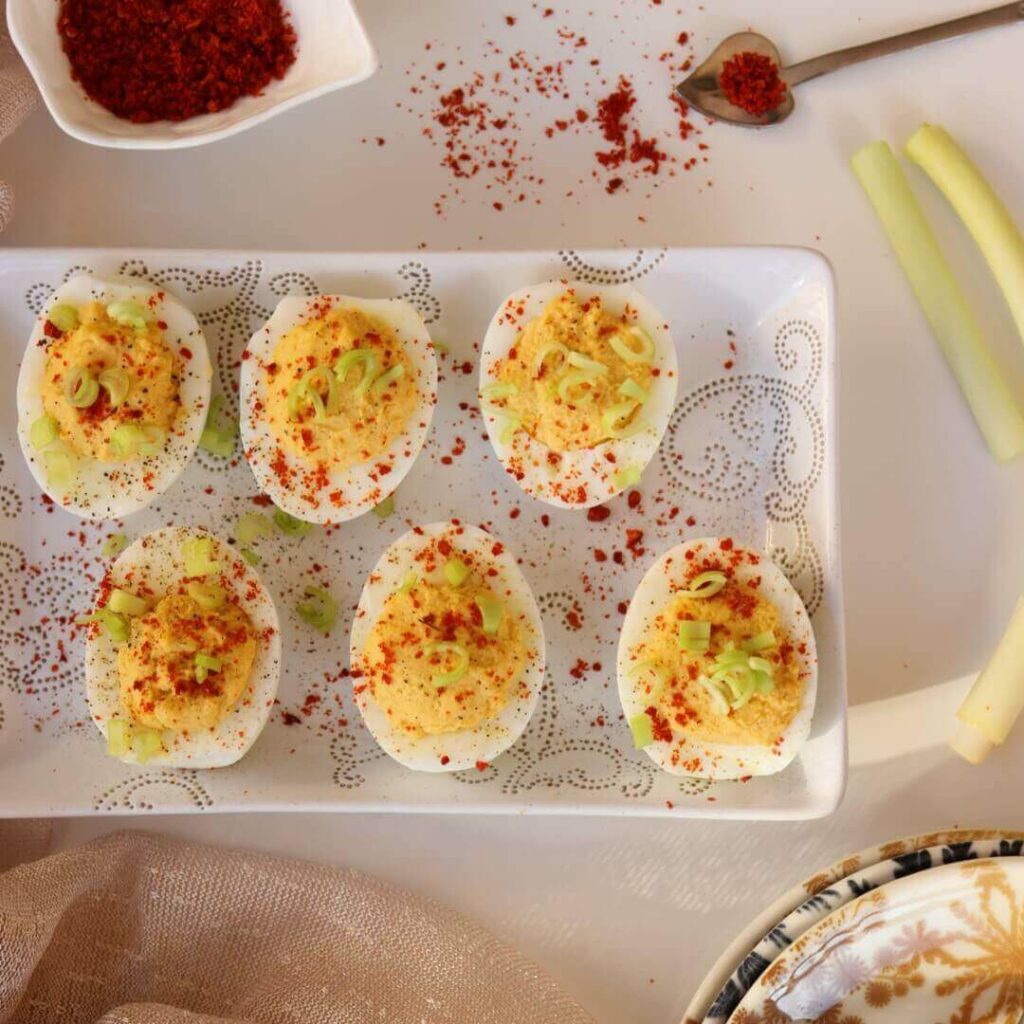 Ingredients:
4 hard-boiled eggs
2 spring onions
1 tbsp dijon mustard
2 tbsp olive oil
Salt, black pepper, red pepper flakes
Directions:
1. Add the eggs to a saucepan and cover with enough cold water. Heat the water with the eggs until the water boils.
2. After boiling the water, close the pot's lid and let the eggs boil for 10-12 minutes.
3. Then, take the eggs from the stove and put them under cold water.
4. After the eggs have cooled, peel them, cut them in half, and remove the yolks.
5. Combine the egg yolks with olive oil, pepper, salt, and mustard and mash well with a fork.
6. Add the mixture to the middle of the egg whites with the help of a spoon, and add paprika and spring onions.
Snack: Hummus Dip for Vegetable Sticks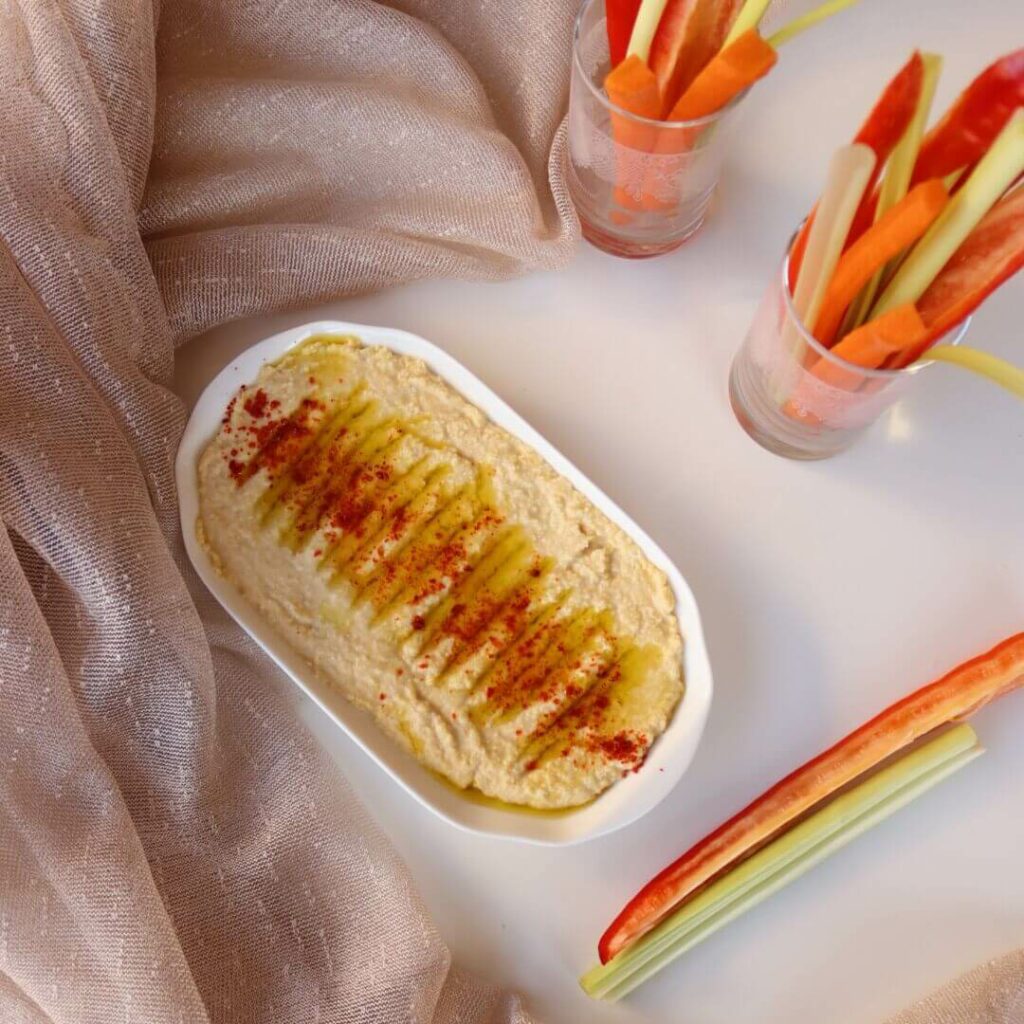 Ingredients:
1 cup chickpeas (cooked)
1/6 cup fresh lemon juice
1/6 cup tahini
1 small garlic clove, minced
3 tbsp extra-virgin olive oil (Set aside half to pour over when serving)
1/4 teaspoon ground cumin
Salt to taste
2 tbsp water
Ground paprika for serving
Directions:
1. Take a blender, add the tahini and lemon juice, and mix for about 1 minute. Make sure to regularly scrape off any residue from the side of the blender to get a smooth consistency.
2. Add the whipped lemon juice, tahini, minced garlic, cumin, olive oil, and salt. Blend for another 20 seconds, scrape the edges of the blender, and continue blending for another 20 minutes.
3. Gradually add the boiled chickpeas to the blender. Blending for about 1-2 minutes until you have a smooth consistency.
4. You can add 1-2 tablespoons of water to the hummus while whisking to achieve a smooth consistency. If you need more water, you can increase it to 3 tablespoons. But the hummus should not be runny.
5. You can revise salt and spices according to your taste. While serving, take the hummus in a flat bowl and add olive oil and ground pepper. You have prepared a great snack by dipping your vegetable sticks!
You can store hummus in an airtight container and the refrigerator for up to 1 week.
Lunch: Halloumi & Quinoa Salad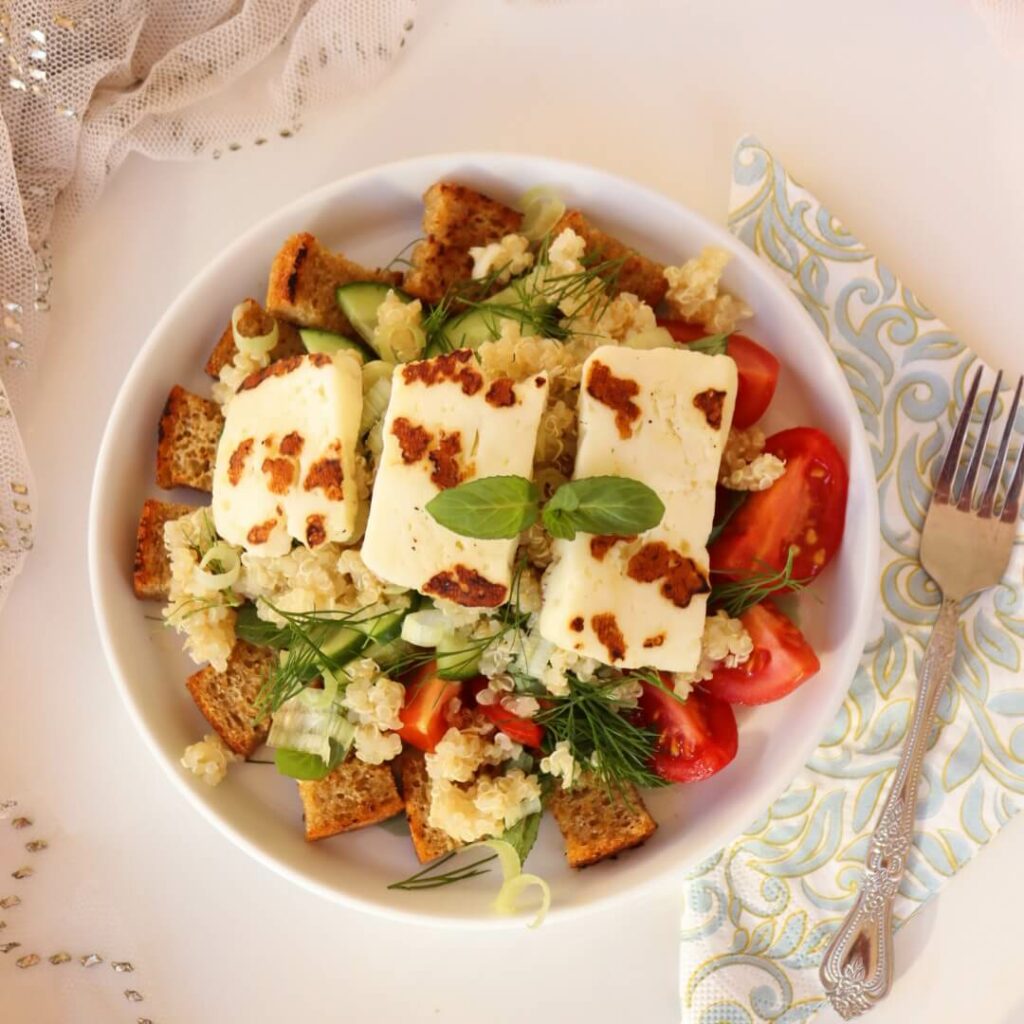 Ingredients:
1 slice of whole-grain bread
1 tablespoon of olive oil
1/2 lemon (squeezed)
1/4 clove of garlic
3 slices of halloumi cheese
1/3 cup quinoa
3 large cherry tomatoes
1/2 medium cucumber
1 spring onion, sliced
1/8 small bunch of mint
1/8 small bunch of dill
Directions:
Wash all the vegetables and chop the cucumber and tomato. Next, crush the garlic and chop the mint and dill.
Cut the bread into cubes and heat a pan over medium heat. Add 1 tablespoon of olive oil to the pan and add the bread cubes. Cook, occasionally stirring, until they are golden brown and crispy on the outside.
Cook the quinoa according to package directions and let cool.
Heat a separate pan over medium heat and grill the halloumi cheese until browned on both sides.
In a large bowl, mix the chopped vegetables with olive oil, lemon juice, and garlic.
On a serving plate, place the crispy bread cubes at the bottom, then add the sauced vegetables on top. Top with the cooked quinoa and grilled halloumi cheese. Serve immediately.
Dinner: Haddock Bowl with Buckwheat (2 servings)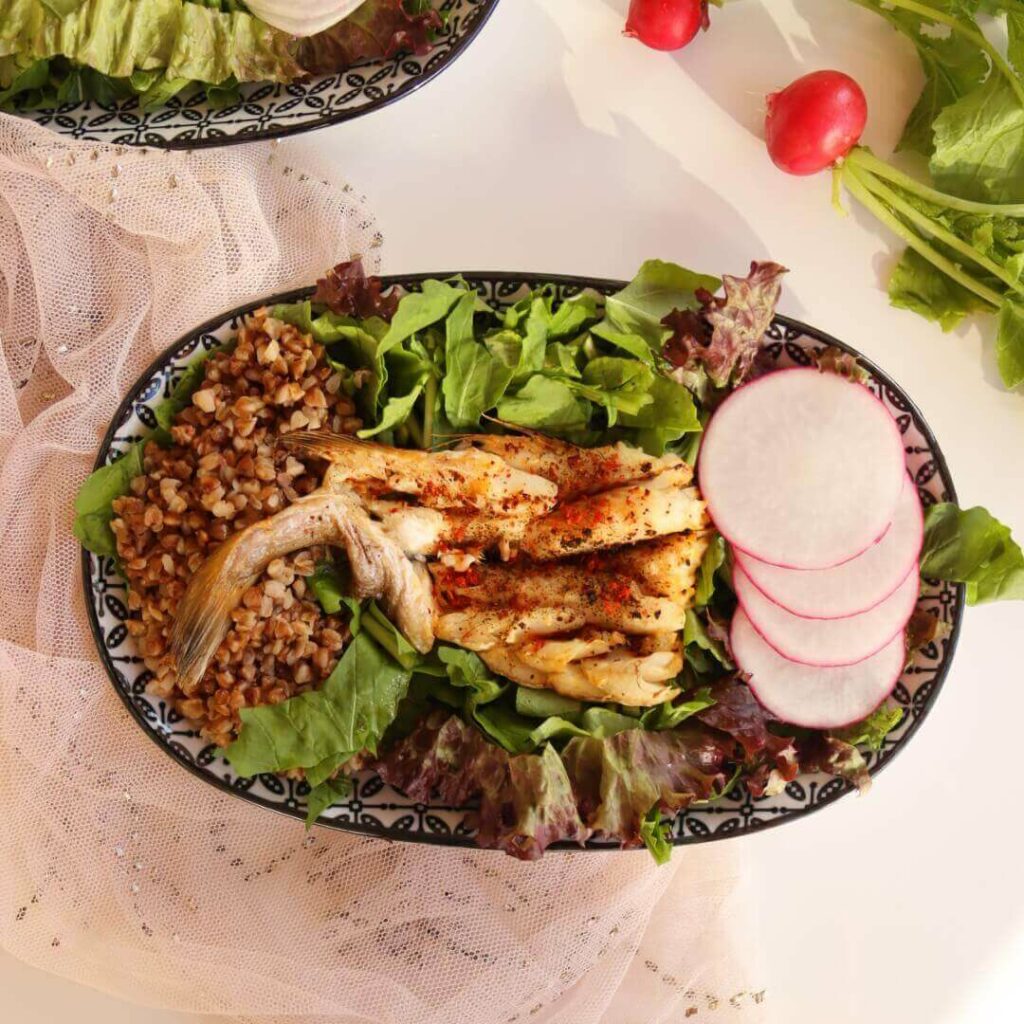 Ingredients:
Grains
1 cup buckwheat groats
2 cups vegetable broth
2 tablespoons extra-virgin olive oil
Yellow Haddock
4 Yellow Haddock fillets
½ tbsp smoked paprika
1 tsp dried thyme
½ tsp oregano
¼ tsp garlic powder
¼ tsp onion powder
½ tsp salt
¼ tsp pepper
¼ tsp cayenne
Garnish
2 radishes thinly sliced
2 cups arugula
Dressing
⅓ cup olive oil
1 lemon (juiced)
2 tbsp honey
¼ tsp salt
⅛ tsp pepper
Directions:
1. Heat a pot over medium heat. Stir in the broth and buckwheat, then boil for ten minutes. Turn off the heat, cover the pan, and let it rest for five minutes.
2. Smoked paprika, oregano, dried thyme, garlic powder, onion powder, salt, cayenne, and pepper are all combined in a small bowl.
3. Spray olive oil onto a pan and preheat it over low heat. Haddock fillets should be seasoned side down when placed on the pan. Season the opposite side of the fish with the spices. For one to two minutes, cook each side.
4. Separate the buckwheat and haddock into two dishes. Add a cup of arugula to each bowl, then garnish with radish slices.
5. Combine olive oil, honey, lemon juice, salt, and pepper in a small bowl. Pour the dressing into each bowl and serve.
Sugar Withdrawal Symptoms
Sugar withdrawal symptoms are the physical and emotional symptoms that can occur when an individual reduces or stops their consumption of added sugars, a pattern of behavior comparable to that produced by other addictive drugs.
However, it's also important to note that the comparisons made to withdrawal from addictive drugs are not supported by scientific evidence but rather by many people's experiences. Therefore, more research needs to be done to establish if the symptoms are similar.
That said, some common sugar withdrawal symptoms include:
Irritability
Fatigue
Headaches
Difficulty concentrating
Mood swings
Insomnia
Sugar withdrawal symptoms can vary in severity and duration and may be more severe for people who regularly consume large amounts of added sugars. However, these symptoms can be managed by gradually reducing the amount of sugar intake, replacing sugary foods with healthier alternatives, and incorporating more whole, unprocessed foods into the diet.
Helpful Tips to Manage Your Sugar Detox
Several essential tips can help individuals succeed in a sugar detox. They could also help those experiencing 'withdrawal-like' symptoms.
They include:
Go cold turkey (Cut off sugar immediately without gradually reducing it)
One of the most effective ways to succeed in a sugar detox is to cut added sugars from the diet rather than gradually reduce intake. This can be challenging, but it can also be the most effective way to break the body's dependence on sugar. Unfortunately, we have an unhealthy relationship with sugar.
It is not always easy to quit sugar, prevent addictive behavior, and try to eat a low-carbohydrate diet. The added sugar and artificial sweeteners that the average American consumes are equivalent to roughly 20 teaspoons.
Giving up this bad habit will not be easy, and a registered dietitian's help can be sought. But it is doable with a strong mentality.
Eat healthy fats
Incorporating healthy fats into the diet, such as those found in avocados, nuts, and olive oil can help to reduce sugar cravings and prevent them from occurring in the first place.
Eat sweet potatoes
Sweet potatoes are a natural source of sweetness that can help to satisfy the body's craving for sugar. They are also a good source of fiber, which can help to regulate blood sugar levels.
Avoid sugar-sweetened beverages
Sugar-sweetened drinks, such as soda, sports drinks, and sweetened coffee and tea, are a significant source of added sugars in the diet. Staying away from these drinks can be an excellent way to reduce added sugar intake, especially if you take them regularly.
Eat healthier foods
Incorporating whole, unprocessed foods into the diet, such as fruits, vegetables, and lean proteins, can help to reduce cravings for refined sugars.
Other foods you should consider adding to your diet include brussels sprouts, cottage cheese, and fatty fish, thanks to their healthy fat, carbohydrate, and protein content. These foods help prolong your satiety and make you feel hungry much later than you typically would.
Avoid fruit juice
While a cup of juice made from fruits may seem like a healthier alternative to soda, they still have a lot of sugar without fiber to help regulate the release of these sugars into the bloodstream. Therefore, it's best to consume fresh fruit and antioxidant-rich berries rather than juice to benefit from fiber and nutrients.
Instead, consuming whole foods supports fiber intake, prevents more sugar intake, and supports self-control. It also reduces the grams of sugar you consume in one go.
Reduce added sugar intake.
It's essential to be aware of how much sugar is in the foods and sugary beverages you consume, as this can help to reduce your overall intake. Look for foods that are low in added sugars, and be aware of hidden sources of sugar included in foods such as salad dressings and condiments.
Manage sweet tooth cravings.
If you have a strong sweet tooth, it can be helpful to have healthy alternatives on hand to satisfy cravings. This could include low-sugar options like dark chocolate or unsweetened frozen fruit.
In addition
Enough sleep, reduced caffeine intake, increased physical activity, and drinking water is also critical in completing the sugar detox. Drinking plenty of water can also increase your bowel movements, reduce food intake, balance calories, and help weight loss.
Conclusion
In conclusion, a sugar detox can be a beneficial way to break the body's dependence on added sugars and improve overall health. Individuals can reduce their risk of weight gain, blood sugar issues, and tooth decay by beating their sugar addiction.
While it may be challenging to give up sugary foods and drinks, incorporating whole, nutrient-dense foods into the diet and finding healthy alternatives for sugar in your diet can help to sustain the benefits of a sugar detox in the long term.
While reducing sugar intake and incorporating whole, nutrient-dense foods into the diet can have health benefits, not everyone will experience cravings for sugar during a sugar detox, and everyone's experience with sugar cravings will vary.
It is also not guaranteed that sugar cravings will disappear entirely after a sugar detox, but reducing sugar intake may lead to fewer cravings over time for some people.
References
Alpert, Brooke, and Patricia Farris. The Sugar Detox: Lose Weight, Feel Great, and Look Years Younger. Random House, 2013.
Struwig, U. (2006). How, when, and why to detox. Journal of Modern Pharmacy, 13(9), 54.
Elia, Dana. The Sugar Detox Diet for 50+. Simon and Schuster, 2021.
DiNicolantonio, James J., James H. O'Keefe, and William L. Wilson. "Sugar addiction: is it real? A narrative review." British Journal of Sports Medicine 52, no. 14 (2018): 910-913.