DIY Strawberry Detox Water Recipe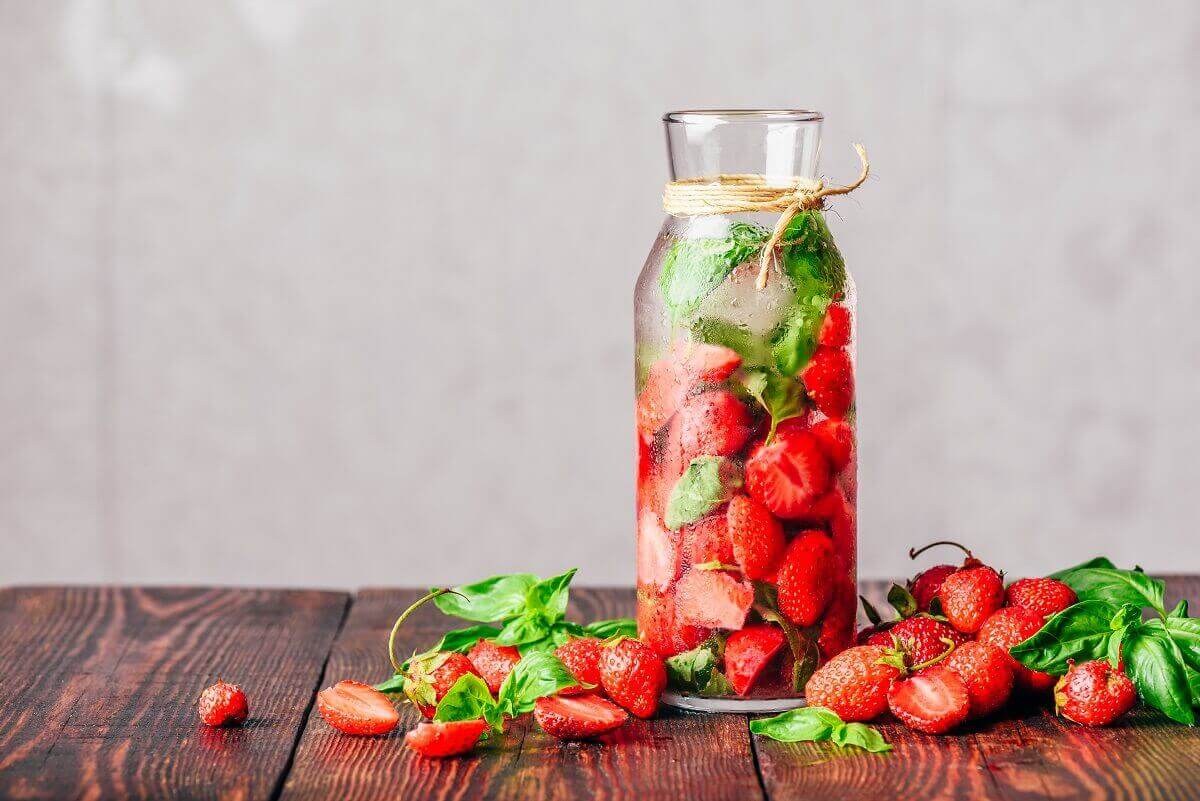 Are you looking for a detox gluten-free water recipe that is both delicious and healthy?
You've probably heard all the hype about detox water and how it can help you lose weight, detoxify your body, and boost your energy. But what are the real benefits of strawberry flavor detox water, and how much water should you drink?
Firstly, detox water is a great way to stay hydrated and lose weight. The benefits of citrus fruit and strawberries can also improve your skin health and reduce inflammation. Strawberries are also a good source of antioxidants, which can assist in fighting free radicals and reduce the signs of aging.
A glass of strawberry water is also a great way to enjoy the taste of strawberries without actually eating strawberries. This is a particularly good option for people who don't like to eat strawberries or don't have time to prepare them.
So, if you are looking for healthy recipes, gluten-free, plant-based drinks, and delicious ways to boost your health, give strawberry detox water a try! The best part is that this detox water is super easy to make and has no added sugar. Simply chop up the strawberries and cucumbers, add them to a pitcher of cold water, and add some lime. Then add fresh mint leaves and stir well. Voila! You have delicious and healthy strawberry-flavored detox water to help you feel refreshed and energized on a hot summer day.
What Is Strawberry Detox Water?
Strawberry water is a drink made with strawberries, water, and lemon juice.
It is a healthy and refreshing drink that can help cleanse your body, get rid of harmful toxins, and improve your overall health. Strawberries are packed with antioxidants, vitamins, and minerals that can help improve digestion, increase energy levels and enhance your immune system.
This drink is simple: chop up a few strawberries and add them to a glass of cold water. Add the lime slices and/or fresh mint. It's so refreshing and thirst-quenching you will love it. Mix up all those ingredients and enjoy.
The Benefits of Strawberry Detox Water
There are many benefits to drinking fruit-infused water, and strawberry water is no exception.
Strawberry detox water can help to flush out toxins from your body, boost metabolism, and improve digestion. It is also an excellent way to keep you hydrated and can help to reduce inflammation. Drinking detox water is an incredible way to improve your overall health and well-being.
Here are all the health benefits of strawberry water that you stand to gain from this detox drink:
Helps with weight loss
If you're trying to lose weight, drinking this water can help.
Strawberry detox water is especially beneficial because strawberries are a natural diuretic. This means they help your system get rid of excess water, which can lead to weight loss.
Strawberry detox water is also a good source of antioxidants, which can assist in boosting your metabolism and encourage weight loss.
Flushes out toxins
One of the benefits of strawberry water is that it can help detoxify your body. It's a great way to cleanse your system and eliminate unwanted toxins.
This water is also a great way to stay hydrated. When you're sweating, your body loses a lot of water. Drinking detox water helps replenish your body's water and keeps you hydrated.
Strawberry detox water also has antioxidants, which are beneficial for your health. Antioxidants help to protect your body's cells from damage and can help to improve your overall health.
Improves skin complexion
One of the benefits of strawberry water is that it can help improve your skin tone. The antioxidants present in strawberries can help to get rid of free radicals, which can damage the skin. In addition, strawberries can also help to increase collagen production, which can help to keep the skin looking smooth and healthy.
Boosts immune system
Strawberry detox water is not only delicious, but it can also help boost your immunity. This is because strawberries are rich in antioxidants, which can help fight off free radicals that can damage your body cells.
Supports Insulin levels
The high levels of antioxidants and vitamin C in strawberries can help to manage your insulin levels. This, in turn, can help to regulate blood sugar levels and prevent high blood sugar.
Reduces inflammation
One of the benefits of strawberry detox water is that it can help to reduce inflammation. Inflammation is a major problem in the body that can lead to a host of health problems.
While there are many different causes of inflammation, one of the primary culprits is an imbalance in the body's pH levels. When the body's pH levels are off, it can lead to inflammation.
Strawberry detox water can help to restore the body's pH levels and, in turn, reduce inflammation. If you suffer from inflammation, strawberry detox water may be a helpful remedy for you.
How to make strawberry drink detox water
Strawberry detox water is made by adding strawberries, lemon juice, lime, and a pinch of salt to water in a large pitcher. It's a great drink in summer because it's naturally sweet and refreshing. You can add some mint leaves and lime to give it a stronger flavor or make a strawberry lemonade with the same ingredients. This is one of the best strawberry detox water recipes.
Strawberries are full of antioxidants and vitamins. They are also a good source of dietary fiber and protein. The white part of the berry is called the "seed," and it has lots of fiber. Strawberries also have anti-inflammatory properties that can help with stomach issues like ulcers and acid reflux.
If you are searching for an easy and effective way to get more fruit into your diet without the need to eat them and that sometimes bloated feeling, then you need to make a detox water recipe.
Vegetables and fruits you can add to strawberry water
The best-infused water combines natural, organic fruits and vegetables. If you want to benefit from your no-prep time strawberry water, then you'll need to add some of these healthy ingredients to your next recipe:
Spinach
Spinach is a great way to add more flavor to your water. The green leafy vegetable has been shown to help promote weight loss and reduce belly fat. You can find this in your local grocery store or farmer's market.
Cucumber
Cucumbers are another vegetable that will make your water even more delicious! They're also loaded with fiber, which helps curb cravings for junk food and keeps you full longer after meals. Try slicing up a cucumber and adding the cucumber to sparkling water or lemonade with some lime in it for an easy summertime treat!
Celery
Celery is another great addition to add to your strawberry detox water. This vegetable contains antioxidants that help fight free radicals in your system while also providing vitamin K, which helps promote healthy bones and acts as a brake on osteoporosis, a disease that weakens bones.
How much Strawberry detox water should you drink daily?
The amount of a fruit-infused water recipe you can drink depends on your personal needs and goals. If you're looking for weight loss, drinking one or two glasses of strawberry detox water daily should be enough to provide all the benefits without any of the negative side effects, such as cravings or poor digestion.
If you want to gain muscle mass, however, consuming an extra liter of fruit-infused water is perfectly fine. The key is moderation and drinking the fresh Strawberry detox water in a way that fits your lifestyle.
Strawberry detox juice is an easy way to detoxify your system and reduce excess weight. It can also help with inflammation and boost your body's immunity so you can fight off infections better.
How to make the strawberry-infused water last longer
If you want to drink a detox beverage daily, the best way to make the strawberry-infused water last longer is to keep it in a glass bottle. If you store it in a plastic bottle, the water will lose its flavor, and flavor additives like strawberry extract will be leached out of the water.
If you want to avoid using a new bottle every time you make strawberry-infused water, try using old milk containers. They are perfect for storing strawberry-infused water as they have a much thicker wall than glass bottles and can hold more liquid without leaking.
Should strawberry lemon detox water be frozen?
Frozen strawberries are a good way to increase the number of antioxidants in your drink. Add frozen strawberries to your smoothie or juice, and watch it turn into a thick, yummy slush!
A little bit of frozen strawberry water goes a long way, so you may want to just put them in the blender for a minute or two. You can also freeze them in ice cube trays and pop out the cubes when ready to make your drink.
Strawberry Detox Water Recipe
Strawberries are one of the most nutritious fruits packed with fiber and antioxidants. They can also help your system to flush out toxins, which is why they're so popular as an anti-aging food.
Strawberry detox juice is a great way to get the benefits of fresh strawberries in a delicious, refreshing drink that's easy to make at home with no prep time. We've put together some simple and popular recipes which are low in calories that will make you feel fabulous!
1. Strawberry Detox Water Recipe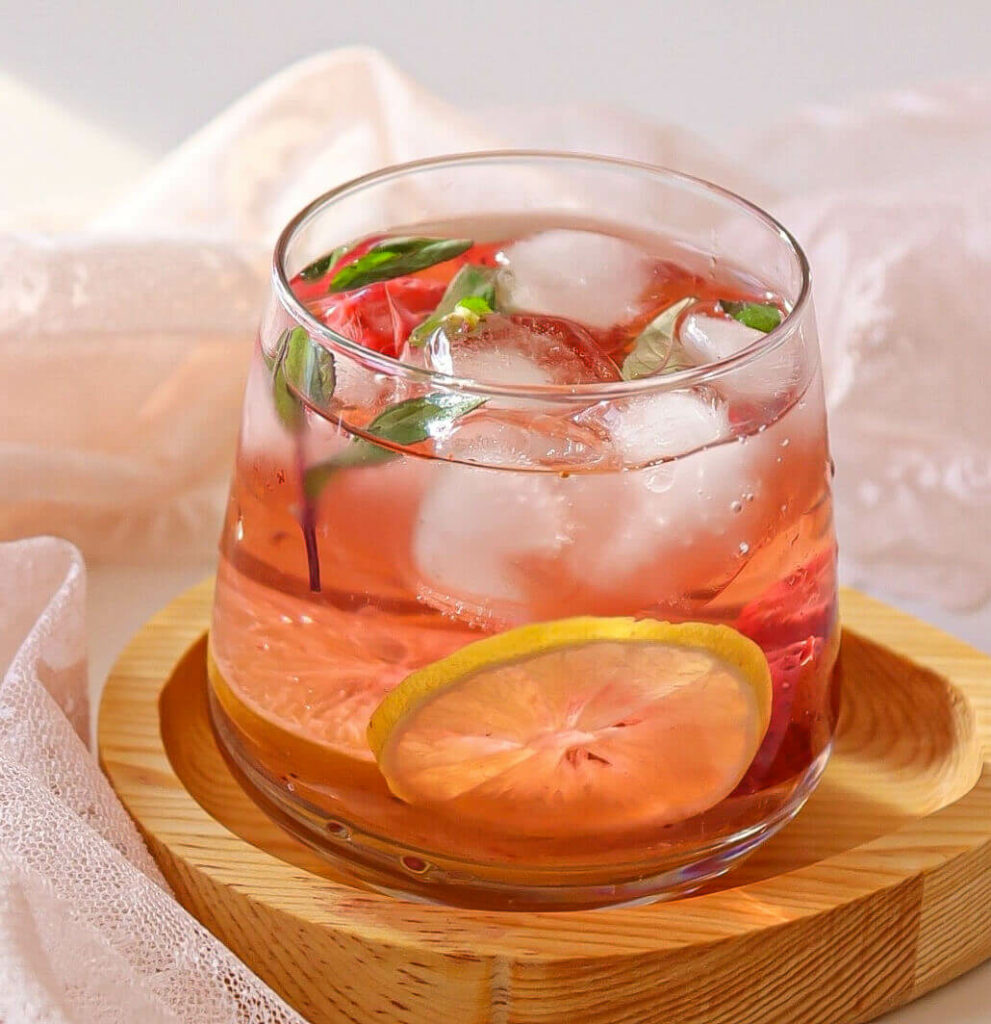 Ingredients:
1/2 cup of strawberries
1/4 lime (sliced)
1/4 cup mint leaves
ice cubes
1 cup of water
Directions:
Combine all ingredients in a glass.
Mix and serve cold.
Conclusion
Strawberry prevents the formation of free radicals thanks to polyphenolic phytochemicals such as flavonoids, phenolic acids, stilbenes, lignans, and tannins, which are abundant. It prevents the formation of free radicals and increases cell regeneration.
Strawberry detox water is not only delicious and refreshing, but it also has a number of benefits. The main benefit of strawberry detox water is that it is a great source of vitamin C. Vitamin C is an essential nutrient that helps to boost immunity, fight off free radicals, and protect your system from a number of diseases.
In addition to being a great source of vitamin C, strawberry detox water also contains a number of other nutrients such as potassium, magnesium, and calcium. These nutrients are important for maintaining a healthy body, and they can also help to prevent a number of health problems such as heart disease, strokes, and high blood pressure.
If you are looking for a way to cut down on sugary drinks or soda and you want a delicious way to start your detox journey by drinking healthy water with more flavor, then a glass of strawberry detox water is a great option.
FAQs About Strawberry Detox Water
You might be wondering how detox water made with strawberries can help you. Here are some frequently asked questions about strawberry detox water:
What are the benefits of drinking strawberry detox water?
Strawberry detox water is a great way to flush toxins out of your system, cleanse your digestive tract, and improve your overall health.
How often should I drink strawberry detox water?
You can drink it daily or as often as you like.
How long does strawberry detox water last?
It should be consumed within 24 hours for best results.
References
Baker-Tierney, M., & July, C. P. T. Shed off Pounds Quickly by Drinking These Detox Waters.
Lentsch, L. D., Thompson, C. W., & Spateholts, R. L. (2001). Overview of a large-scale chemical treatment success story: Strawberry Valley, Utah. Rotenone in fisheries: are the rewards worth the risks, 63-79.
Neocleous, D., Ziogas, V., & Vasilakakis, M. (2012). Antioxidant responses of strawberry plants under stress conditions. Acta horticulturae, 10.
https://www.researchgate.net/profile/Vasileios-Ziogas/publication/279449428_Antioxidant_Responses_of_Strawberry_Plants_under_Stress_Conditions/links/5593035708ae5af2b0eb692b/Antioxidant-Responses-of-Strawberry-Plants-under-Stress-Conditions.pdf