Easy Watermelon Detox Water Recipe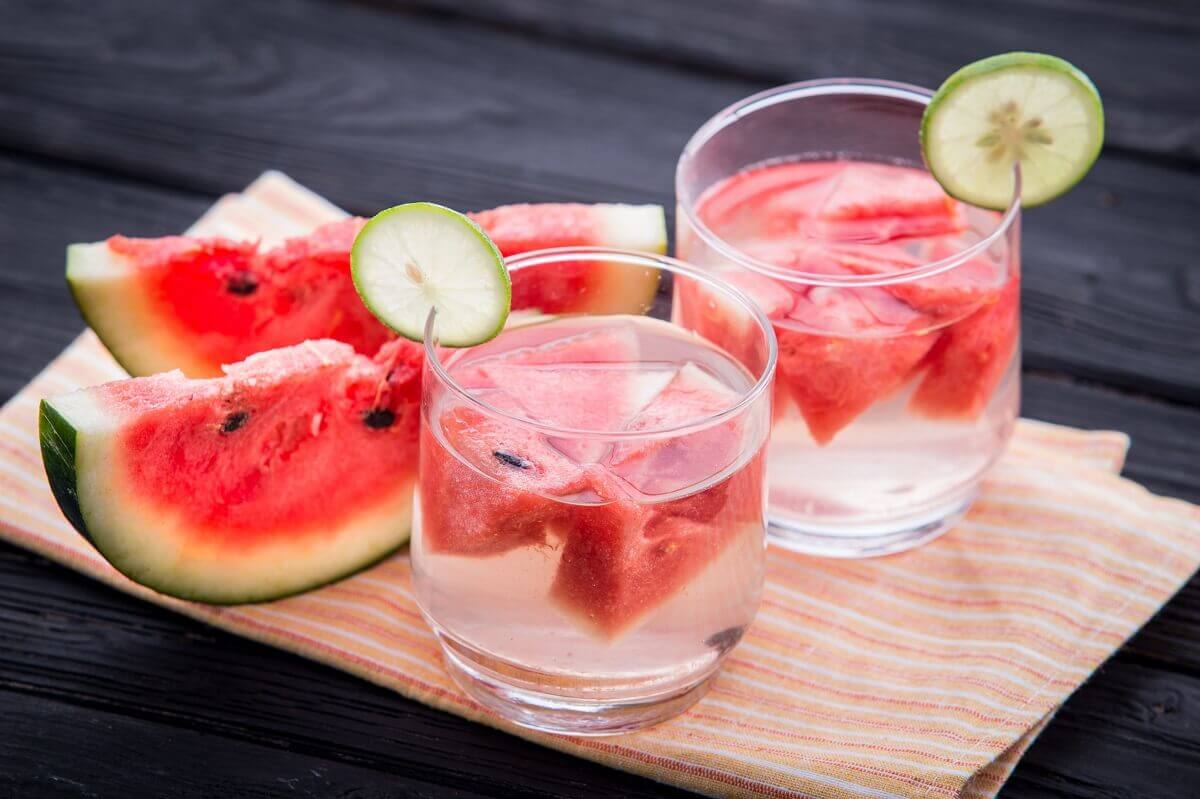 Do you want to detox your system and lose weight? If so, you should try this delicious and refreshing watermelon detox water.
Watermelon is a natural diuretic, which means it helps the system flush out toxins and waste. It is also a good source of antioxidants, which help to protect you against free radicals. And it is high in vitamin C, which helps to boost the immune system.
So, by drinking detox water with watermelon, you get all the benefits of watermelon and detoxing. It is a great way to cleanse and rejuvenate your system.
Nutrients Found in Watermelon
Watermelons are rich in vitamin A, which supports immune health and helps maintain healthy skin and eyes. Watermelon also contains lycopene, an antioxidant that may help protect against certain types of cancer.
Beta-carotene is a precursor to vitamin A, which is important for vision and a great immune system. Lycopene is also an antioxidant that has been linked to lower risks of heart disease and cancer.
Watermelon is a great source of vitamin C, which is important for your immune system. It also provides a good dose of iron and magnesium, which are important for energy production in muscles. Vitamin C is a powerful antioxidant that can help to protect your cells from damage.
Watermelon is also a good source of magnesium and potassium, which contain important electrolytes for the body.
Magnesium helps maintain strong bones and teeth, while potassium helps regulate blood pressure levels.
Benefits of Watermelon infused water
Watermelon-infused water is a great way to cleanse your system and boost your health.
Fresh watermelon is a great source of vitamins and minerals and contains antioxidants that can help protect you from disease. When combined with detox water, it makes a powerful detoxifying drink.
Watermelon-infused water helps to flush out toxins and reduce inflammation. It also helps keep you hydrated and boosts your metabolism.
Some key benefits of watermelon detox water include:
Detoxification
Drinking watermelon fruit-infused water is one of the best ways to cleanse your body and reset your system. Watermelons are full of vitamins and minerals and a great source of hydration.
Plus, they are low in calories and fat, so it's a healthy option for those trying to lose weight.
When you drink watermelon fruit-infused water, you flush all the toxins out of your system.
This helps improve your overall health and well-being, and it can also help boost your immune system.
Weight loss
Watermelon detox water can help you lose weight. This is because the water content in watermelons can help flush out excess water weight from your system.
In addition, the natural sweetness of watermelons can help curb your cravings for sugary food and drinks. So, detox water with watermelons is a great option if you're looking to lose weight.
Hydration
We all know how important it is to stay hydrated, but did you know you can help your system flush toxins by drinking detox water?
Detox water is made by infusing water with fruit or vegetables, and adding watermelon to your detox water is a great way to improve your body's hydration.
Watermelons comprise 92% water, so it's a great way to help you reach your daily recommended water intake. But that's not all – watermelons also contain important vitamins and minerals like vitamins A, B6, and C, potassium, and magnesium.
Muscle repair
Fresh watermelon is also a great food source for repairing muscles after a workout. The amino acids in watermelon help to repair and build muscle tissue, so drink up!
Watermelon Detox Water Recipe
Watermelon detox water is a great way to cleanse your system from the inside out. The antioxidants in watermelon will also help reduce inflammation and boost metabolism, which are essential for weight loss. It can also refresh you by lowering your heat on summer days.
Here are some recipes that include watermelon and mint that you can incorporate into your diet for their many health benefits:
1. Watermelon & Kiwi Detox Water Recipe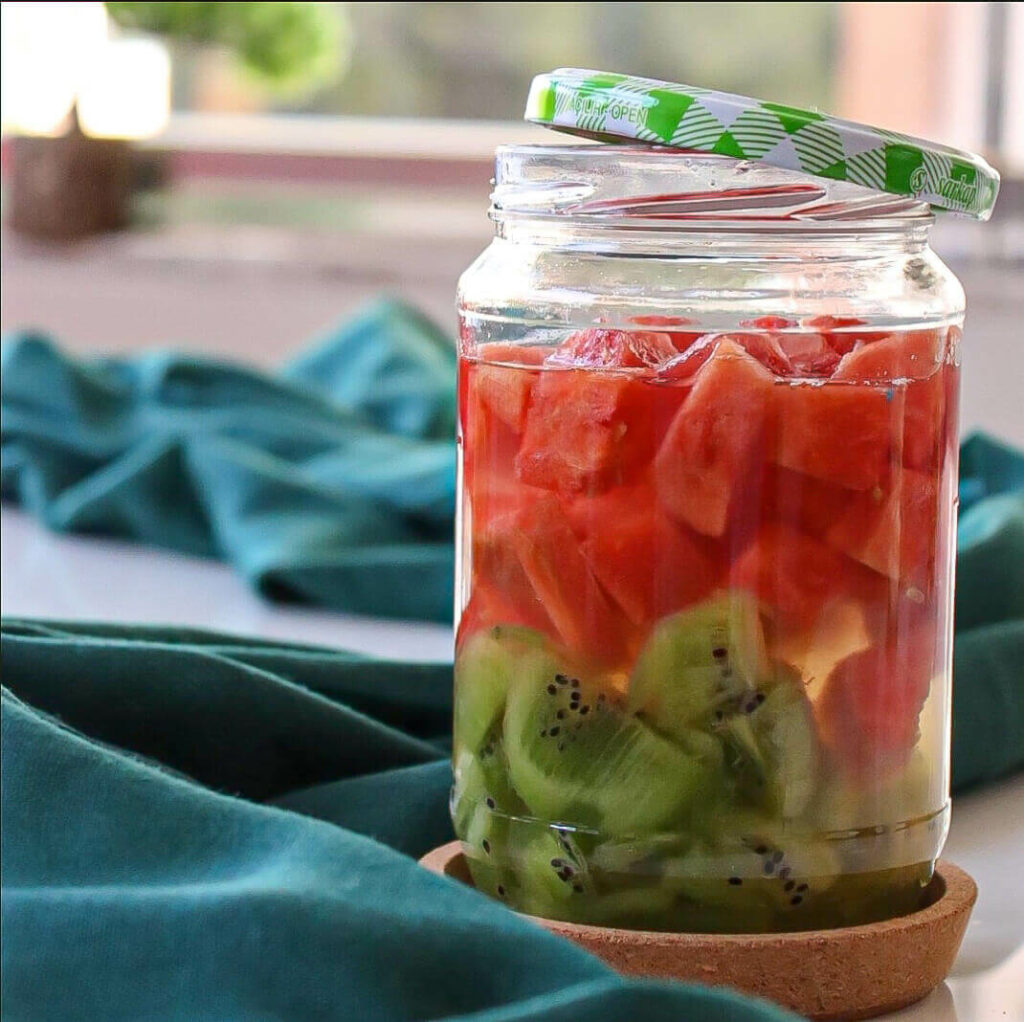 Ingredients:
1/2 cup watermelon (diced into cubes)
1/2 cup kiwi (peeled and sliced)
1 cup of water
Fresh mint leaves (optional)
Lime juice or lemon slices (optional)
Ice cubes (optional)
Directions:
Mix all ingredients together in a mason jar and cool in the fridge.
Wait a few hours for the water to become infused with all this fruit and refrigerate overnight.
You can immediately add ice cubes, mint, watermelon chunks, or lemon slices to your juice according to your taste and drink.
Eating watermelons that contain an adequate amount of the amino acid L-citrulline is associated with a reduction in arterial stiffness and blood pressure.
This effect is most notable in clinical populations with a high prevalence of cardiometabolic risk factors.
Do you want to increase the sweetness in your water? You can do this by adding thin slices of fresh fruit or the fruit juice of your favorite fruits and looking for a more refreshing recipe. You can create a wonderful recipe from watermelon, mint, and lemon.
Detoxing is an excellent way to hydrate and cleanse your system naturally.
The high water content in watermelon flushes out toxins and impurities while the vitamins and minerals replenish and revitalize your cells.
This detox water is a refreshing and satisfying way to quench your thirst, and it's also a great way to enjoy the health benefits of watermelon and mint.
If you're looking for a fun and delicious way to enjoy the goodness of watermelon, don't miss this fabulous watermelon slushie recipe. It's the perfect complement to our hydrating Watermelon Detox Water and a must-try for a refreshing summer treat
Frequently asked questions
What is Watermelon-infused water?
Watermelon-infused water is a natural, healthy, and refreshing beverage. Watermelon contains an array of nutrients, including vitamins A and C, potassium, fiber, and protein.
The sweet flavor of this fruit makes it an ideal choice for hydration.
What are the health benefits of drinking watermelon-infused water?
Watermelon-infused water is rich in antioxidants that help fight free radicals in the body. It also contains vitamin C which helps boost immunity and lower blood pressure.
Watermelons contain several minerals such as copper, magnesium and potassium which improve blood circulation and reduce inflammation.
How do I make Watermelon-infused water at home?
To make a delicious drink at home, simply mix 1 cup of fresh or frozen watermelon chunks with 1 cup of filtered water in a blender for about 5-10 minutes until you get a lovely smoothie consistency.
Pour it into your favorite glass bottle or container and refrigerate for at least 2 hours before serving it cold or chilled. Best served chilled or cold on hot summer days!
References
Rizal, M., Segalita, C., & Mahmudiono, T. (2019). The effect of watermelon beverage ingestion on fatigue index in young-male, recreational football players. Asian Journal of Sports Medicine, 10(2).
Akashi, K., Nishimura, N., Ishida, Y., & Yokota, A. (2004). Potent hydroxyl radical-scavenging activity of drought-induced type-2 metallothionein in wild watermelon. Biochemical and biophysical research communications, 323(1), 72-78.
Jing-Hua, Y., Yuan, G., Yan-Man, L., Xiao-Hua, Q., & Zhang, M. F. (2008). Salicylic acid-induced enhancement of cold tolerance through activation of antioxidative capacity in watermelon. Scientia Horticulturae, 118(3), 200-205.