4 Easy Detox Salads Recipes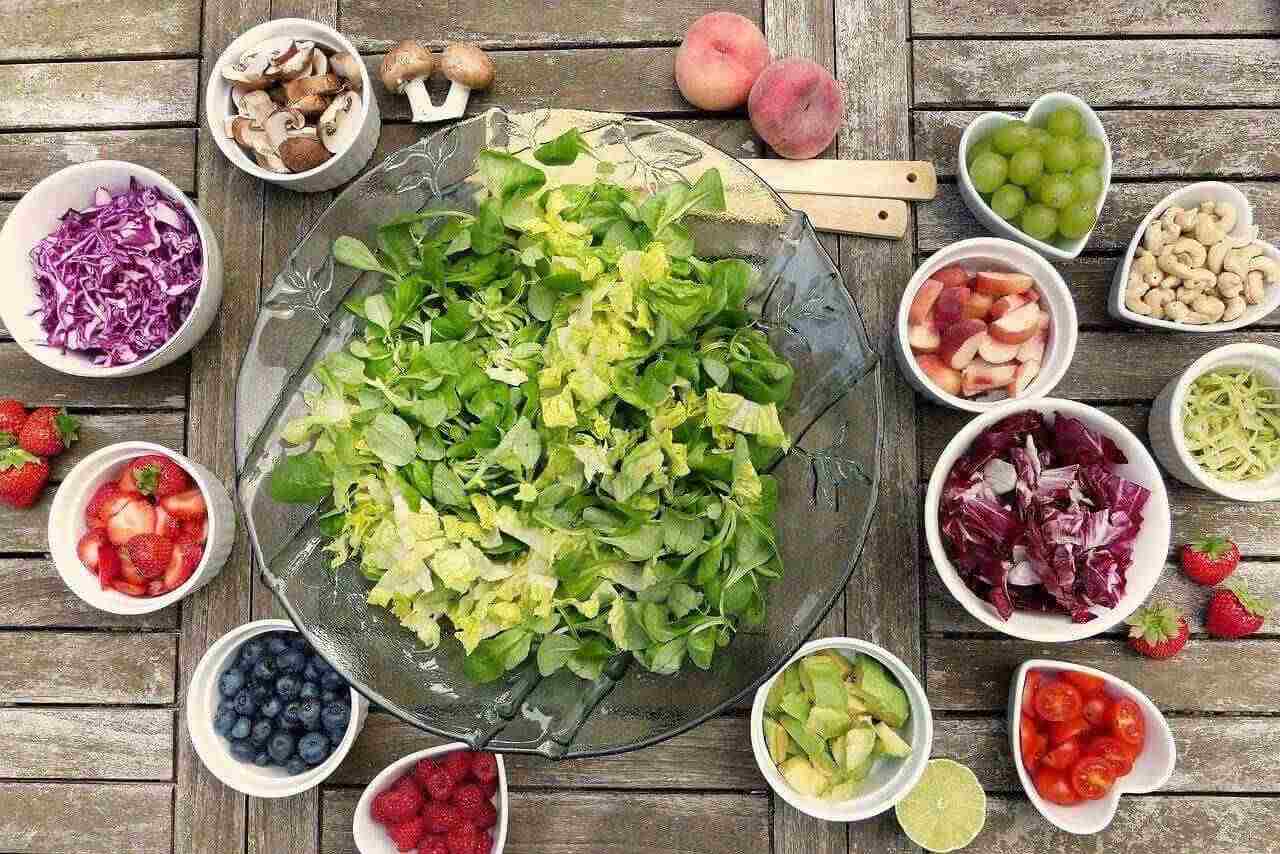 Let's be honest; following detox foods and cleansing diets is no easy feat.
Keeping track of the diet plan, calorie count, what to eat, and what not to eat can become so overwhelming it's not surprising why many people put off sticking to the diet strictly.
Detox salads are an easier way to include wholesome and healthy detox foods in your daily diet. These salads can consist of various organic fruits, veggies, and herbs, all low in carbs, that can often be taken as a complete meal supplement.
Want to learn more about salad detoxing and its benefits? Keep reading!
What is a Detox Salad?
Although all kinds of salads are generally healthy and help you maintain weight, detox salads are ideal for getting the proper nutrients in your body and clearing out toxins.
These salads have a healthy choice of fruits, cruciferous vegetables, and fresh herbs as the key ingredients. Plus, the dressing is also more beneficial compared to regular salads. You may use lemon and olive oil only or avocado, but whatever the choice, it will be without the unwanted carbs and fats.
The detox salad also fills your stomach. So it's a great supplement that serves you and keeps you from falling for those unhealthy cravings.
The best part is that the salad still tastes delicious despite the healthy ingredients.
Why Detox Salad?
Detox salad is a fun way of eating all the vegetables we dislike without them tasting "eww!"
It's gluten-free. So if you're vegan, you'll love the combinations you can make and swap ingredients like honey easily while keeping things healthy and delicious.
That means we can enjoy a healthy bowl of ultimate detox salad without getting turned off by the taste of the individual ingredients.
Then these salads are so customizable! There are hundreds of alternatives for the ingredients and dressings. You can always try out different variations, try fruits and veggies of your choice and add herbs to increase the health benefits of the salad.
Finally, making a detox salad is easy. You only have to chop, drizzle, and toss it. Else, you may pop it all in the processor for a minute or two to get a chunky texture.
Benefits of Detoxification
Detox salads have a few (or many) handpicked and carefully selected ingredients rich in nutrients and vitamins.
These help your body eliminate toxins and boost your strength and immunity.
A detox diet is a way to bring your body into balance so you can function well. These also build energy, revitalizing your senses and giving you a healthy start to the day.
When making a detox salad, you have a pantry full of choices. But what should you put in it that's healthy and nourishing both?
Here are some of the most important fruits and vegetables (and their health benefits) you should use in detox salads.
Cauliflower
Cauliflower is one of the healthiest vegetables you can add to your salads. The vegetable is rich in antioxidants and phytochemicals. It also has high fiber content that may help in weight loss.
Cauliflower has a lot of anti-inflammatory properties, which can help you fight diseases like heart ailments and even cancer.
Raw Broccoli
Broccoli is full of nutrients. If you or your loved ones suffer from cardiovascular troubles or low immunity, the vegetable can be beneficial in many ways.
It is rich in vitamin C, boosts immunity, and reduces inflammation.
Then it has high fiber and is also known for its benefits for eye health.
Red Cabbage
Red cabbage is an excellent detox food. The vegetable is rich in antioxidants and also helps with inflammation.
Red cabbage has a lot of other compounds, like sulfur, that may help eliminate toxins from the body and promote heart health.
Carrots
Carrots are enriched with vitamins and beta-carotene, boosting the immune system and promoting eye health.
Vitamin A is the main vitamin carrots are known for, which is beneficial in many ways. Since it's part of your detox diet, vitamin A aids the liver in ridding the body of toxins and other harmful elements.
Flatleaf Parsley
Full of carotenoids and flavonoids, parsley can help your body fight off many diseases.
It also has vitamin C, which promotes a healthy immune system, and has many antioxidants.
Celery
Celery is composed of 95% water. The celery seeds have about 25 anti-inflammatory compounds that help protect your body from infections, inflammation, and diseases.
The vegetable has soluble and insoluble fibers, which can help support digestive health.
It's also rich in iron and magnesium, which can keep your body's pH in check.
Toasted Almonds
Many healthy salad recipes have almonds, walnuts, or raisins used as garnish.
These dry fruits are rich in fiber and protein and have the healthy fats you need for your day.
Almonds are best for upping vitamin E intake. As per research, vitamin E helps lower your risk of cancer and Alzheimer's disease.
Sunflower Seeds
Sunflower seeds, too, have many benefits for health. They help reduce body inflammation, have vitamin E, and help detox the body.
However, some more healthy salad recipes only use these seeds in the dressing (or in moderation.) The reason is that they have high calcium content. Over time, consuming large amounts can cause kidney stones or kidney troubles.
Raisins
As mentioned before, raisins are excellent for a detox diet plan. They have all the required nutrients like iron, antioxidants, fiber, boron, and calcium.
So you get to maintain your iron levels in the blood and build healthy bones, too, thanks to the calcium content.
Lemon
Lemons have high levels of vitamin C and antioxidants. They are excellent for weight loss and promote a healthy pH balance and immune system. These qualities make lemons and lime perfect for detox salads, drinks, and diets.
Ginger
Ginger, usually (used in grated form), is very beneficial for those with digestive issues or slow metabolism. It may help faster eliminate waste and toxins from the body.
It also provides relief from nausea and has anti-inflammatory properties.
How to Make Detox Salad
Salads are the easiest culinary food you can make in the kitchen.
It only requires selecting suitable vegetables and spices and chopping them up, and voila! You have a fantastic recipe on hand.
Here are some key steps to making a detox salad that ensures you get clean, nutrient-based, and the right ingredients in your salad bowl.
Rinse
Always rinse all the fruits, vegetables, and herbs in cold water before cutting them up.
Remember, fresh produce may come from the ground. So it's likely to have dirt, grime, and germs stuck to it.
Use cold running water to rinse all the items and let them air dry.
To dry them quicker, pat them with a clean towel or use a salad spinner.
Chop
The next step is to chop the vegetables and fruits. You'll need a cutting board and a very sharp, reliable knife.
It may take a bit of practice, so don't rush the process. Chop each vegetable well so they mix and blend well.
Depending on the recipe, you may also use a food processor to pulse the ingredients til you get a fine texture.
Toss
Now comes the fun part. Put all the ingredients in a large bowl and toss them with the salad spoon and fork.
It can be an amusing activity; you may include a partner or kids to help and have family time in the kitchen.
Dress the Salad
Finally, sprinkle and drizzle the dressing and toss all the ingredients again so it gets to the salad evenly.
Detox Salad Recipes
Check out some fantastic detox salad recipes here:
1. Kale and Green Onions Detox Salad with Lemon Ginger Dressing
Ingredients
Kale – preferably curly kale
Carrots
Cabbage
Avocado
Finely chopped broccoli florets
Radish
Green onions
Fresh mint leaves
Fresh cilantro
Olive oil
Sunflower and sesame seeds
Pine nuts
Salt
Dressing
Olive oil
Garlic
Ginger
Apple cider vinegar
Lemon juice
Maple syrup
Turmeric
Salt and pepper
What to Do
Chop all the vegetables roughly.
Mix olive oil, grated ginger and garlic, and the other ingredients to prepare the dressing.
Put all the ingredients in a wide bowl.
Add the dressing and toss it well.
Enjoy!
2. Detox Salad with Honey Mustard Dressing
Ingredients
Kale
Carrots
Red cabbage
Broccoli
Brussel sprouts
Parsley
Almonds
Dressing
Olive oil
Lemon juice
Honey
Ginger
Dijon mustard
Salt
What to Do
Chop all the vegetables roughly in fours.
Place kale, broccoli, cabbage, carrots, Brussels sprouts, and parsley in a food processor.
Pulse the processor til the ingredients become finely chopped.
Add almonds to the food processor and pulse it again a few times.
Take out the processed ingredients in the bowl and add the sunflower seeds.
Whisk the salad dressing ingredients well til they become creamy.
Store the salad in the refrigerator and serve within an hour.
3. Crunchy Detox Salad
Ingredients
2 cups cauliflower
2 cup broccoli
1 cup carrots
1 cup red cabbage
Two stalks of celery
1 cup fresh parsley
½ cup almonds
½ cup sunflower seeds
⅓ cup raisins
Lemon Vinaigrette
½ cup lime juice
Three tablespoon olive oil
One tablespoon ginger
½ teaspoon sea salt (or kosher salt)
Two tablespoon clover honey
What to Do
Finely chop all the ingredients of the salad. You may also process them by pulsing them a few times to have them finely chopped.
Put all ingredients in a large salad bowl and toss well.
Add the vinaigrette and continue tossing so all ingredients get evenly coated.
Your crunchy detox salad is ready!
Detox Salad with Butternut Squash
Ingredients
3 cups butternut squash (roughly chopped)
One avocado
A bunch of kale
A pint of Brussels sprouts
One tablespoon of olive oil
¼ teaspoon turmeric
¼ teaspoon cumin
¼ cup grape seed or vegetable oil
¼ cup apple cider vinegar
Two tablespoons of Greek yogurt
One tablespoon of maple syrup
One minced shallot
1 oz. Pumpkin seeds
Salt and black pepper
What To Do
Chop all the fruits and vegetables
Turn on the oven and preheat to 425 degrees Fahrenheit
Roast the squash with olive oil, cumin, turmeric, salt, and pepper.
Let it cook til it turns light brown. It will take around 15 minutes.
Take out the dish, toss the squash, and cook again for 5-10 more minutes.
It should get tender and have slightly caramelized edges.
Take out the dish when done and let it cool.
Take a small bowl and, using a whisk, mix vinegar, Greek yogurt, grapeseed oil, shallots, and maple syrup. Season the dressing with salt and pepper.
Take a huge bowl. And add Brussels sprouts, kale, roasted squash, and pumpkin seeds.
Drizzle the salad dressing on top and toss it.
Add avocados and toss the salad again.
Enjoy!
Tip: You may keep the detox salad outside the fridge for 2 hours. Also, cut the avocados right before serving.
4. Detox Salad Recipe with Lemon Juice and Olive Oil Dressing
Ingredients
Four large leaves of kale
One teaspoon of olive oil
2 cups red cabbage (purple cabbage)
1 cup broccoli
One small avocado
One medium carrot
Two radishes
Two green onions
A pinch of salt
¼ cup roasted sunflower seeds
Two tablespoons fresh mint leaves
Two tablespoons cilantro
Lemon Ginger Vinaigrette (lemon Dressing)
Olive oil
Fresh ginger (finely grated)
Lemon juice
Honey clover
Sea salt
What to Do
Chop kale and other vegetables.
Place kale in a large bowl with olive oil and salt.
Mix it well with your hands til it changes color to a darker hue.
Blend the other ingredients in a blender or food processor.
Add them into the bowl and toss the salad.
Drizzle the salad dressing and toss again well.
Serve the salad immediately.
Wrap Up
Detox salads are a healthy and nourishing way to cleanse your system of harmful toxic elements.
The salads are very easy to prepare, and you can personalize the recipes per your choice or availability of ingredients.
So detox salads are the most leisurely ride if you consider trying a new diet plan or a healthy routine.
Don't wait and make your body suffer. Try these delicious detox salads today and enjoy healthy living!
Rahul is a nutritionist and personal trainer with 3+ years of experience in the field of health coaching. He specializes in nutrition science, with a keen eye for how food choices, lifestyle habits, and physical activity impact our bodies.